The Bharatiya Janata Party (BJP) has emerged as a clear winner in the 2014 Lok Sabha elections. Narendra Modi, the to-be Prime Minister of India, also seems to be leading the social-media's race to connect with more and more people.
In a new Twitter trend, Modi has invited his well-wishers to send greetings and good wishes with the hashtag #CongratsNaMO, for a specially created 'Victory Wal'.
I look forward to receiving your good wishes on the specially created Victory Wall http://t.co/bVzfqRKA5m #CongratsNaMo

— Narendra Modi (@narendramodi) May 16, 2014
The goodwill messages and tweets appear on the wall, which has been specially created for the purpose. A thank you message appears on the 'Victory Wall' with Narendra Modi's picture and signature, thanking the people of India for their support and blessings.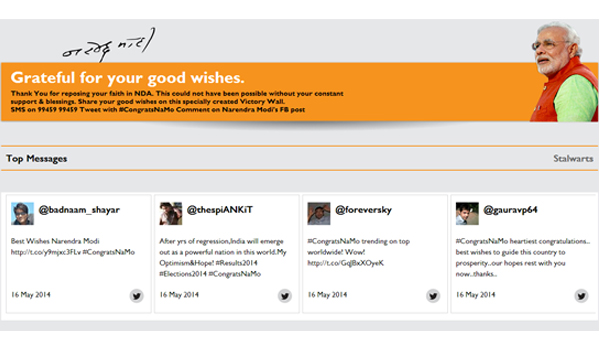 Twitter is flooding with praises for Modi, congratulating him for his sweeping victory. The 'Modi wave' has turned into a 'Tsunami' which seems to have affected social media the most.
We all have great hopes from you sir,please take our country forward to great heights #CongratsNaMo

— ROFL Engineer (@gaurav_verma23) May 16, 2014
Biggest Revenge is Massive Success. #CongratsNaMo

— Nitin Gupta(Rivaldo) (@Nitin_Rivaldo) May 16, 2014
#CongratsNaMo A humble tea seller rises to the top post of the country. We are witnessing the success and beauty of democracy.....New India!

— om swaroop (@classmates91) May 16, 2014
Acche Din Aa Gaye! India #Modified #CongratsNaMo #Results2014 #indiadecide2014

— BohemianMe (@MarimbaRhythms) May 16, 2014
@narendramodi Can't explain our happiness through words Sir! :) #CongratsNaMo

— JD (@BeingTheJD) May 16, 2014
1947 me hame angrezo se aazadi mili thi or aaj 2014 Me hame Congress se aazadi mili h #CongratsNaMo #Result2014

— manu baliyan (@manuanindian) May 16, 2014
#CongratsNaMo you are the change we've been waiting for! It is an independence day in the truest sense!!!

— gp (@GitanParaj) May 16, 2014
#CongratsNaMo Congratulations to all Indians in making BHARATHA MATHA extremely joyful in blessing MODI to climb the throne as #PM...

— MAHALAKSHMI S ! (@Affectionate_MS) May 16, 2014
Congrats NAMO.. Fabulous win... India looking forward to positive changes... Now Modi has to live to the expectations #CongratsNaMo

— krupa s. patel (@kruparon) May 16, 2014
Congratulations to us Narendra Modiji as PM is the dream come true!!!! I'm proud of the election results #CongratsNaMo

— Sony (@tweterryy) May 16, 2014
#CongratsNaMo Huge victory for BJP as they perform a clean sweep in LS Polls. Pappu & Co has the worst performance in ls polls ever

— Aditya Bhattacharya (@ARB1205) May 16, 2014