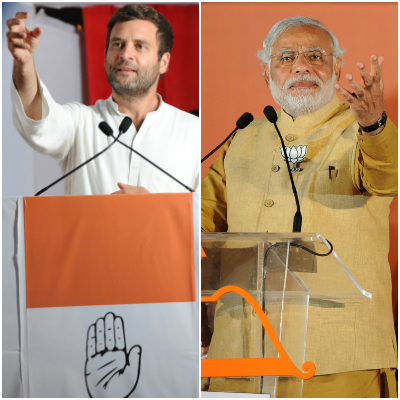 Rahul Gandhi in his recent interview with a leading national daily, yet again took a dig at the opposition calling them a divisive force. The laments that have persisted for quite a while now, were strengthened in the recent interview.
Defending the development in the country in the past years, the Gandhi scion said, "The ideology best suited to build and sustain this partnership between business and the people is the ideology of the Congress. This is the fundamental difference between BJP and us." He also said that Modi had sidelined major leaders from his party in the recent past. This he maintained, was a clear indication of his nature.
"Modi carries hatred around with him. He probably has reasons to do so," said Gandhi when asked about the Saffron party leader. The BJP honcho has been referring to Gandhi as a Shahzada in quite a few speeches recently. In his response to this reference he said, "I don't see the need to accept any of these gifts (titles) that Modiji is giving me. He can keep them with himself."
Talking about the reportedly divisive unit, Rahul stated "Under the current BJP leadership, their ideology has acquired a particularly virulent character. It has shed any semblance of respect for the democratic, secular and inclusive fabric of our nation. It is a politics of hubris, anger, and divisiveness."
"The Congress worker, unlike the BJP cadres, is seen not only waving the banner on television sets but he is fighting in every village, every town and every locality against the communal and divisive agenda of the Opposition," said Rahul Gandhi defending his marketing strategy calling it a force of action and not just ranting.
Speaking of industrial growth, he said, "The opposition leader's predilection to favor one or two business houses is nothing but crony capitalism and must be challenged. Such practices not only result in crores being lost but also signal to the rest of the world that India is not a level playing field. This is detrimental to the interest of creating a sound business environment in our country.
Rahul Gandhi, in an attempt to target Modi's individualistic campaigning said that the BJP President was only promoting himself and not the party as a whole.
The Congress government after ten long years of rule, yet again faces a strong threat from the NDA. However the politician hopes for a rosy future. Stating that the PM and his mother, Congress President Sonia Gandhi, are his political mentors and gurus.
The fight is gruesome, but Gandhi is determined; or so it seems. "Tolerance appears to have little place in their thought process. But my resolve is firm and my response to this brand of politics and those who practice it is to quote what someone once said famously: You do your worst, we'll do our best," he says.