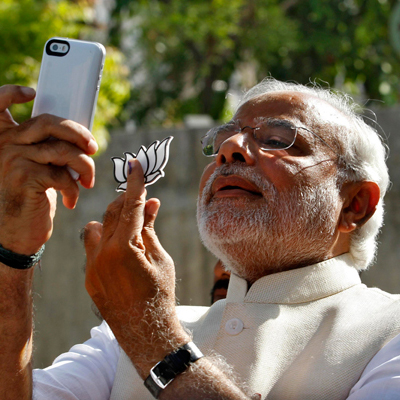 While their boss – Prime Minister Narendra Modi – is setting records on social media and has recently become the fifth most followed leader across the world, union ministers in his government and their ministries are still dragging their feet on joining the social media bandwagon.
Just after forming the government, Modi's National Democratic Alliance (NDA) government had "suggested" all ministers and the ministries to join social media platforms like Twitter, Facebook, YouTube and blogs to "directly communicate" to people.
However, it has not happened even though over a month has passed since the government was formed.
Union Information and Broadcasting (I&B) Ministry had asked all ministries to nominate nodal officers who would be in-charge of posting updates across social media- Twitter, Facebook and YouTube. "However, till now only around 20 from the 51 ministries in the union government, have nominated such officers and even they are yet to undergo proper training," a senior government official told dna.
These officials nominated as nodal officers will be taught from scratch about usage of social media first by in-house experts – officers within the information and broadcasting ministry – and if required by calling experts from outside. A team of four officers has been appointed by I&B to handle the social media cell which would also be taking care of this training including how to join Twitter, how to tweet, follow people, reply or post a photograph or a link.
"But even the training dates have not been finalised as yet. It is not a mandatory thing … but we are trying to encourage everyone to come online," the senior government official said.
Asked about the issue, the Union I&B minister Prakash Javadekar told dna, "we are working on it and it would be done soon".
The ministries seem to have taken a cue from their political leaders – the ministers – who also have been slow in donning a virtual avatar.
Since formation of government, not many high profile ministers have joined the virtual world.
External Affairs Minister Sushma Swaraj, Finance Minister Arun Jaitley and Home Minister Rajnath Singh were already on Twitter. Rajnath Singh after taking over a home minister has got another one in "Office of Home Minister of India" just like Modi who has one personal Twitter ID and one as PM.
Ministry of External Affairs has been an exception and has a huge presence not just on social media from years but also has dedicated mobile application.
Other high profile ministers who are active on Twitter are I&B minister Prakash Javadekar who regularly tweets about all his meetings, Ganga Rejuvenation and Water minister Uma Bharati and power minister Piyush Goyal but they also had Twitter accounts prior to becoming ministers.
But not many other ministers have joined social media. Also some of the ministers who had prior social media accounts are not that active now in spreading information about their work or meetings.
Sources admitted that reason behind slow movement on social media is the fear of getting identified from PM or their officers that has kept them away from the virtual world. "While they are learning how to use social media from tech-savvy colleagues or even journalists, they are fearful of even following PM's office on Twitter. Some officials also feel that it would increase their work," said sources.