Ministry officials going for BRICS summit will now miss watching World Cup finals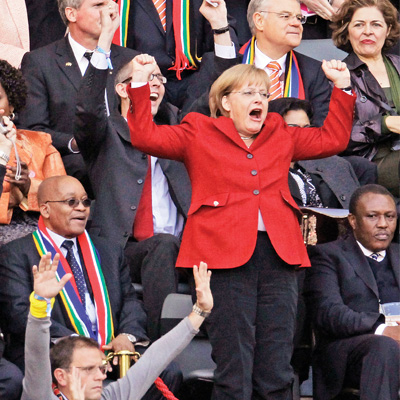 Other than breaking the heart of millions of football fans, Brazil's stunning loss to Germany has also come as a rude dampener to the Indian officials who are part of Prime Minister Narendra Modi's delegation to the BRICS Summit in the Brazilian city of Fortaleza.
Modi's delegation, up for some serious negotiations at the BRICS Summit, includes senior officials from the ministries of finance, commerce, external affairs, information technology and industries. However, due to budgetary work, finance minister Arun Jaitley has opted out. The delegation will include commerce minister Nirmala Sitharaman and minister of external affairs Sushma Swaraj. Many of these officers were looking forward to watching the football world cup final in Brazil. Their dreams of enjoying the finals at Estádio Maracanã (Maracana Stadium) in Rio de Janeiro have already been put to rest by the government which decided to turn down Brazilian President Dilma Rousseff's invitation to watch the finals.
Germany's win against Brazil has altered Modi's diplomatic engagements in Frankfurt too. Hence the officials, part of the powerful delegation, will also lose out on enjoying the football festival in Germany whose team is through to the finals. Germany's Chancellor Angela Merkel, who had invited Modi for a first dinner meeting with an extended stopover at Berlin while going for BRICS, is now herself set to fly to Rio de Janeiro to cheer for Philip Lahm and his boys.
An Indian diplomat claimed that they were prepared for this development and going back on invitations under such circumstances does not affect relations in any manner. The Brazilian loss has also put a question mark on the spirit of the BRICS Summit at Fortaleza, a city that lies on Brazil's eastern coast, touching the South Atlantic Ocean.
"The Brazilian loss has turned everything into a damp squib. Brazilians are very passionate about football. A loss in World Cup semi-finals is as bad as national mourning. We don't know how it is going to play out at the BRICS Summit in Fortaleza, which begins on July 15 immediately after the World Cup finals. First and foremost, PM Modi will have to find the right words to sympathise with them," said an official, part of PM's entourage.