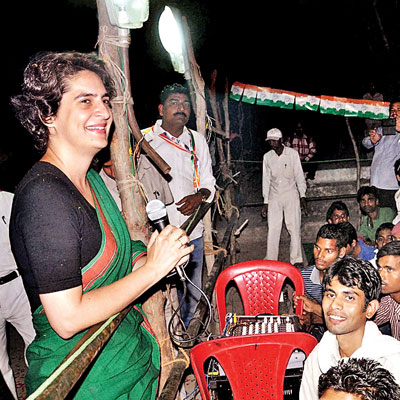 It's a like a family soap opera, the TRP-hyping Priyanka Gandhi Vadra-Narendra Modi to-and-fro. Byte after byte, episode after episode, day after day. There was the "scurrying away like baffled rats" to "why this childishness" and so on and so forth. Now, matters have moved on from the maternal, to the paternal.
To a question asked of him in an interview to Doordarshan, the BJP's prime ministerial candidate Narendra Modi reportedly said that Priyanka "is like my daughter".
Word of "like my daughter" went around and in due course, after P Chidambaram picked it up to make a very paternal point against Modi, it reached the ears of "like my daughter".
Guess what, "like my daughter" didn't like it one bit.
Accosted on a road in Amethi, where she's campaigning for her brother Rahul Gandhi, who has off late been quieter than a church mouse, Priyanka got off her SUV, brushed aside SPG, and told reporters, "I'm Rajiv Gandhi's daughter", a fact that the world knows.
The BJP, still caught in a fatherly stupor, was not quick to react. Then, it broke its silence, stressing on the "like my" to emphasis that Modi never said Priyanka was or is his daughter, just "like my daughter", and what's so wrong about it.
BJP spokesperson Nirmala Sitharaman told dna, "Somebody, a father's age referring to a girl as a daughter is reflective of Indian culture. He said it in that spirit."
So, what exactly did PC say that made Priyanka wake up to deliver the bombshell, "I'm Rajiv Gandhi's daughter"? Apparently, after hearing of Modi's "like my daughter" statement, PC expressed doubts whether Priyanka would like to consider Modi as a father-figure. "I'm happy that Modi considers Priyanka Gandhi as his daughter, but I am not sure if she will be happy to consider Modi as a father figure," PC said.
Word is that "like my daughter" and other remarks from the interview have been edited out from the interview. To this, Sitharaman said it showed that there has been some pressure. "It (DD) has done something not acceptable ethically by journalistic standards. Its for them and Congress to say where the pressure came from," she said