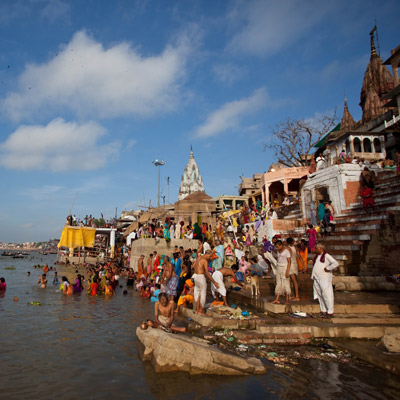 The Ganga clean-up plan is very welcome and long overdue. A positive, environmentally friendly step from our new Government —one which we look with hope that it will be successfully implemented and set the standard for other rivers of the country, most of which are suffering extreme neglect and exploitation along with the Ganges.
Rivers are pristine at their origins, but worsen as they pass through populated areas. The Ganga before it passes Rishikesh is clear and banked with white sand but deteriorates rapidly thereafter.
In Maharashtra, rivers in a state of crisis include the Mithi, Patalganga, Godavari, Kundalika, and Ulhas Rivers. All pass through industrial and urban areas, and depending on the extent and type of industry, become polluted with chemical and other effluents before they reach the sea. Most are exploited for their sand which is seen as a free natural reserve, available in unlimited quantities.
Communities including urban communities have close interaction with their surroundings and, since most urban areas are located on rivers, creeks (where the river meets the sea), are dependent on them for their food, water security and land security. Compromising rivers and creeks is dangerous to the long-term survival of our cities and these must be protected as a priority.
Polluted rivers affect the food chain by poisoning the fishing catch and contaminating the drinking water. They affect our air quality by releasing toxic vapours into the air we breathe. They affect our recreational activities and quality of life by making beaches and river banks unfit for leisure activities.
In 2014, a study conducted by TERI found that all west flowing rivers, many of which source drinking water for Mumbai are highly polluted and have been so since 2007. They contain extremely high concentrations of fecal matter due to semi-treated sewage; by the time they reach the sea, the quality of water makes it undesirable for any kind of recreational activity, affects fish, migratory birds, beaches and vegetation.
Oil spills are a regular feature and major and minor spills occur with frequency in port areas situated on creeks. Since creeks carry water far inland, these oil spills often affect communities and rivers deep within the land and can compromise fishing and recreation far beyond the actual area of spill.
Sand mining further burdens our rivers. At the point that a river meets the sea, it becomes subject to tidal action from the sea and water quality becomes salty. It is at this juncture that mangroves can grow. The existence of mangroves clearly point out the salty nature of the water, where a river becomes a creek. Due to the intermingling of two ecosystems, the marine and the terrestrial, creeks are a crucial meeting point and exchange between both ecosystems. For coastal cities like Mumbai, creeks protect the land from the sea's full force by providing a natural outlet for the interface between land and sea. If the creeks are removed or compromised, we could rapidly start losing land by erosion through force of the sea's tides and our ground water would become rapidly contaminated by intrusion of sea water in the land.
In recent years, massive quantities of sand are regularly extracted from rivers and creeks to supply the rapidly growing construction industry. There are no studies or data regarding the quantity of sand which is required both at present or in future, or the quantity of sand which is actually being extracted.
At the Ganga, Swami Nigamananda Saraswati went on a hunger fast to protest excessive sand mining and died without the problem being addressed. In other parts of the country, protests against unsustainable and illegal sand mining have been met with violence and the sand mafia has murdered officers and civilians who stand in their way.
A clean up of the Ganga which addresses the various problems facing our rivers is the need of our times. Most of our major cities are situated on river- banks or on the sea, close to the meeting point of rivers with the sea. Historically, cities have depended on the ecosystems and livelihoods provided by rivers, creeks and marine life. The long-term survival of our cities still depends on these ecosystems.
The Ganga clean up is a beginning, one which I hope acknowledges and forms a prototype for clean up of all our rivers. It is absolutely crucial that this clean up plan is not only cosmetic but engages with national policy on vital issues including treatment of sewage, garbage disposal, industrial pollution, oil pills and sand mining.
Sumaira Abdulali is a Mumbai based environmental activist and she has convened an NGO movement for protection of public-interest activists, 'Movement against Intimidation, Threat and Revenge against Activists' (MITRA).