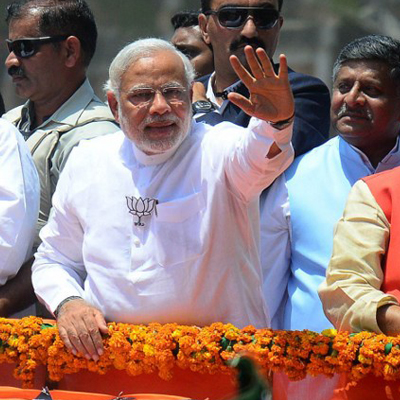 Bharatiya Janata Party's (BJP) prime ministerial candidate Narendra Modi alleged on Thursday that the security reasons raised to cancel one of his two planned rallies in Varanasi were fake.
Addressing an election rally at Rohaniya, 12 km from here, Modi also hinted that the Congress was influencing the Election Commission (EC) to place curbs on him in Varanasi where he is the BJP's Lok Sabha candidate.
Addressing tens of thousands of cheering supporters, Modi said that supposed security threats were being used to prevent him from meeting the people of Varanasi and perform an aarti at the Ganges. "I have addressed more than 400 rallies across the country in the last seven months... in terror-hit areas, in Maoist areas... but there has been no security threat.
"Why has suddenly this threat come up in Varanasi?" he asked, while citing comments by Home Minister Sushilkumar Shinde and Finance Minister P. Chidambaram. "I am ready to die. So why are you afraid?"
The BJP has declared virtual war on the Election Commission after it initially put curbs on Modi's two rallies but later, on the recommendation of local authorities, allowed one rally on Varanasi's outskirts.
Modi was also allowed to interact with "intellectuals" at a hotel and do the Ganga aarti but the BJP called off those events saying the green signal came too late.
The Gujarat chief minister asked the Election Commission to ensure free and fair polling Monday, the last round of the staggered Lok Sabha election that began April 7.
Accusing Congress leaders Sonia Gandhi and Rahul Gandhi of targeting him for challenging them, he said his only agenda for coming to Kashi - as Varanasi is known - was to promote development.
Spelling out his vision for the temple town, he said he wants to put Varanasi on the global tourism map by showcasing its ghats, temples and other heritage monuments. He said the winds of development will sweep the city only if he won from Varanasi, where his main opponents are Aam Aadmi Party's (AAP) leader Arvind Kejriwal and Ajay Rai of the Congress.
Modi also accused the Congress-led central government of harassing him for more than a decade by unleashing the CBI after him. "Now they do not even want to see my face," he said to loud cheers.
He recalled the late Apna Dal founder Sonelal Patel in his address. The Apna Dal is in alliance with the Bharatiya Janata Party. Varanasi is home to a large number of Patels.
Modi said he did not believe in caste politics but "I feel sad when my opponents ask about my caste".