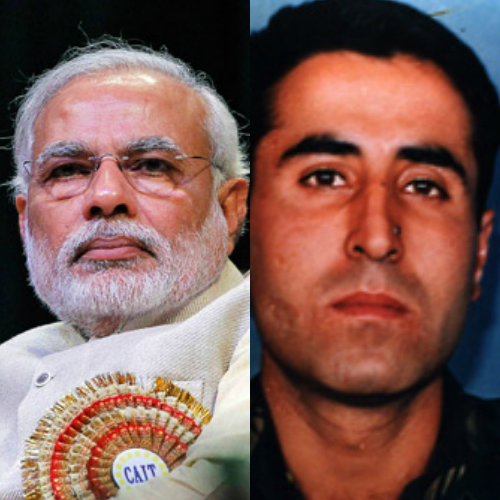 After creating a controversial coup of sorts with his 'Yeh dil maange more' comment, Narendra Modi tried to steer clear out of the controversy and control damage aggravated by his party members.
On invoking Kargil war matryr's name, Modi said, "Will quit politics rather than allow dignity of martyrs be hurt."
But the damage control seemed minimal as people on social media had lashed out strongly against him and also Vikram Batra's 'innocent' mother.
Captain Batra's family was not impressed at this usage of their son's name. "BJP must not drag his name into politics," said his father, GL Batra in television reports.
Captain Batra's family challenged Narendra Modi by stating, "If he feels so indebted to martyrs he must withdraw his party's candidate against Mrs Batra." Kamal Batra also hit back at Narendra Modi for the comments by stating that he is a 'Pseudo-patriot.'
Captain Vikram Batra's mother Kamal Kanta Batra is contesting elections on AAP's ticket from Hamirpur, Himachal Pradesh. She is running for Parliament for the first time from a town known for its large concentration of ex-servicemen and serving soldiers.
She has been fielded by Arvind Kejriwal's Aam Aadmi Party. She is pitted against the BJP's sitting MP Anurag Thakur and Rajinder Singh Rana, of the Congress.
When Kamal Batra opposed Modi's comments, BJP leader Meenakshi Lekhi came out and attacked her vociferously. She said, "'Dil Maange More' is not a copyright of the Vikram Batra's family."
To add to it, she went ahead and also said, ""Mrs Batra should have joined the BJP before contesting the polls against Anurag Thakur."
Indian army has won many wars including the India-pakistan, India-China and Kargil war. India lost as many as 527 soldiers and around 1,363 soldiers were wounded in the Kargil war and it was unfair of Narendra Modi to involve a soldier in political context for electoral benefits.
At the rally in Palampur in Himachal Pradesh, Modi had said, "I want your best wishes. I want to serve you. You've given them (Congress) 60 years. Can't you give me 60 months? Yeh dil maange more! Give me 60 months."
He stuck to his speech at another rally, saying "Vikram Batra died for the country - he had said - yeh dil maange more. I say it too. I want all four seats in Himachal. I want 300 lotuses across India."
The Batra family clearly wanted to stay away from politics and politicisation of their matryr son's last words. Captain Vikram Batra's family had asked BJP to refrain from politicising martyrdom for electoral gains in the Lok Sabha Elections.
G L Batra, father of Captain Vikram Batra had added that it was incorrect to drag Vikram's name into politics to gain votes for Narendra Modi.