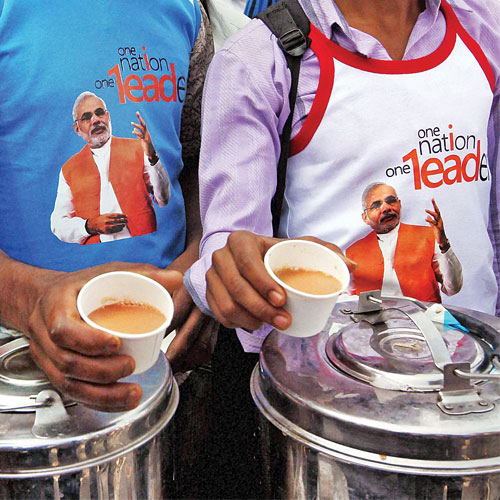 The BJP prime ministerial candidate Narendra Modi has decided to return opposition leaders' jibes on his humble tea-seller background back with equal vehemence, by reaching out to voters through tea and starting a novel electoral campaign from tea stalls. To start with, he will interact with people at a tea stall in Gandhinagr (Gujarat) on February 1, the Lok Sabha constituency of BJP stalwart LK Advani. This 'Chai Pe Charcha' will be connected with 1000 tea stalls in 300 cities, from where people can discuss their local issues with him via video conference.
The brain behind this idea, Citizens for Accountable Governance (CAG), a non-profit group supporting Modi's PM candidature, will organise 'Chai Pe Charcha' (discussion on tea) every week ahead of the general elections. The organisers say this will help Modi to interact with two lakh people directly every week.
According to a CAG spokesperson, 'Chai Pe Charcha' will use a combination of Internet, television broadcast technology, mobile and social media platforms to connect with 1,000 venues across the country. During each such interaction, a simultaneous multi-way video conference will be organised at public places from where people can discuss their local issues with Modi.
"Modi will be able to connect with at least two lakh people during each round of the event. In all, from now until elections Modi will be able to interact with over 30 lakh people directly through this event. In addition, several millions will be reached using online webcast of the interactions," the CAG spokesperson said.
As per the plan, people will be invited to attend 'Chai pe Charcha' through online and offline campaigns. Currently, more than 40,000 people from different states have expressed their willingness to attend the event, the maximum are from Uttar Pradesh, Madhya Pradesh and Maharastra.