After the video game, books, songs and other social media in honour of the BJP PM candidate some fans on YouTube have made a song set to the tune of 'Lungi dance' with innovative lyrics called, 'Namo dance'.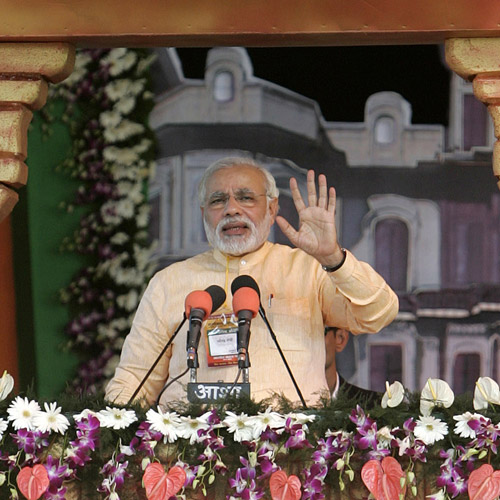 The Narendra Modi wave has swept through India since the Gujarat chief minister was named the BJP's prime minister. From a game to mashups dedicated to Modi.
The 63-year-old now has a new song and dance named after him that has been uploaded on YouTube by a fan in the NaMo leagur channel.
With the description on YouTube that reads, "After Lungi dance, its time for NaMo dance. Yes, the PM candidate Narendra Modi effect has caught attention of his fans. Check out this video of Narendra Modi made by Keerthi, a hard core NaMo fan. NaMoleague thanks her and her team for coming up with such a beautiful composition and sharing it exclusively with us. Amazing video, must watch."
Set to the lyrics of popular song Lungi dance from Chennai Express the song is called NaMo dance. With pictures of people crowding to the Narendra Modi rallys and Modi in his animated way speaking the video pays tribute to NaMo as the Gujarat CM has come to be called.
Here is the NaMo dance video: