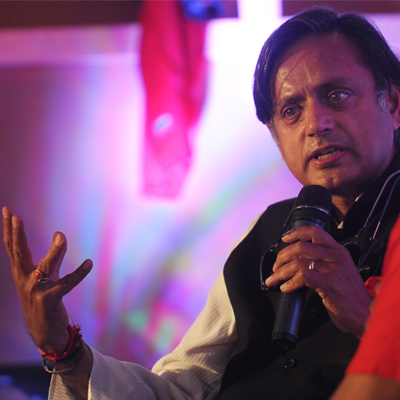 Congress leader and author Shashi Tharoor has said that BJP's prime ministerial candidate Narendra Modi has not been able to "attend to the interests of a diverse democracy" and appealed to youth to vote for an "idea of India" where nobody is discriminated against. He also said India's 150 million first-time voters would determine the outcome of the polls.
"The idea of India is that we are a land of everybody, and everybody has contributed to the evolution of this civilisation. Everybody has as much stake in this country as anybody else," Tharoor, the incumbent MP from Thiruvananthapuram and from where he is re-contesting, told IANS in an interview. Tharoor said the Gujarat chief minister's ideology betrayed this idea.
"Our constitution assures that nobody should be in any way at a disadvantage because of the accident of birth or for having a particular religious background. Unfortunately, we have one political leader in this country who does not seem to believe this," the minister of state for human resource development said in an apparent reference to Modi.
Tharoor, who was in news recently following the mysterious death of his wife Sunanda Pushkar on Jan 17 in a Delhi five-star hotel, described the ongoing general elections as a "youth quake".
"As the number of young voters increases, the salience and relevance of their concerns determining the outcome of the election increase," said Tharoor, a former UN under secretary general (Communications and Public Information).
He said he would be sorry if young voters turned to Modi for redressing their grievances. "I think if they are doing that then they are making a mistake. Some might be seduced by the man who claims he can come on a white charger with a sword and cut through the knots of delays in our system," Tharoor said, when it was pointed out to him that according to opinion polls, youth favoured Modi as India's next prime minister.
"The fact of the matter is he has not been able to demonstrate that he can move a system along and take everyone along with him," Tharoor maintained. Replying to the argument that not many were happy at the economic slowdown under UPA-II, Tharoor said the Congress-led ruling coalition understood and appreciated the "impatience" of youth.
"We had tremendous amount of support from young voters in 2009. The young should understand we appreciate their impatience. At the same time, we have to get things done with our system," said Tharoor. The author of 13 books dismissed any wave for Modi in Kerala, where he had been campaigning for UDF candidates. "I don't see even a slight flutter in the water as far as Mr. Modi is concerned."
He said a resounding victory for the Congress-led United Democratic Front (UDF) candidates on May 16, when the results will be declared, will come as a thumbs-down for Modi's brand of politics.
"The kind of message that Mr Modi has been articulating throughout his adult political life will fall on very inhospitable terrain in Kerala," Tharoor said. The UDF won 16 of 20 Lok Sabha seats in Kerala in 2009. Tharoor appeared confident that he will win this time too.
In the April 10 polls, he faced Communist Party of India (CPI) candidate Bennet Abraham, a former state public service commission member; former BJP union minister O Rajagopal, and the Aam Aadmi Party (AAP) candidate Ajith Joy, a former IPS officer.
Tharoor hoped to remain in office after the elections but refused to speculate on the role he would be given if the UDF returns to power. "Whatever the opportunities are, I can assure the voters of Thiruvananthapuram and the people of India that I will serve with commitment, with energy and with dedication," Tharoor said.