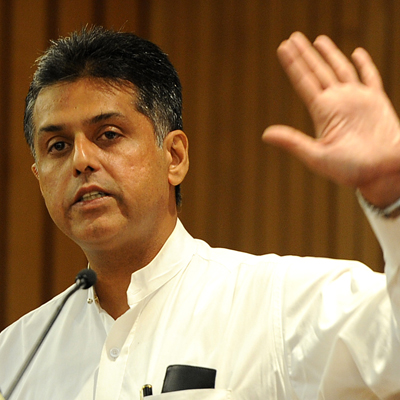 Congress leader Manish Tewari on Saturday said that Prime Minister-designate Narendra Modi should raise issues his party has been taking up for the past ten years on matters related to Pakistan, when Prime Minister Nawaz Sharif visits to India.
"If the prime minster of Pakistan has agreed to come, that's a call which he has taken. What is important to underscore or underline is that the BJP has had a consistent position over the past ten years, and that position can be subdued in two words; that terror and talks cannot go hand in hand. Modi should raise the issues that his party has been taking up over the past ten years, while Sharif's visit to India," Tewari told ANI.
"Therefore, I do hope that the BJP government, once it gets sworn in, would raise the question of the slow pace of the 26/11 trials, which has been troubling them and the culpability of people in Pakistan. Especially people like Hafiz Syed whose culpability has weighed very heavily with the BJP in terms of attacks from Pakistan soil, which were targeted India," he said.
"They have also been periodically taking up issue of the return of Dawood Ibrahim, who allegedly is being sheltered by the establishment in Pakistan. So, we do hope that they remain true to the position that it has been taking up over the past ten years, and raises these issues with the Pakistan PM when he comes to India," he added.
Sharif has accepted India's invitation to attend the swearing-in ceremony of Modi on Monday evening. Television channels had earlier quoted Sharif's media advisor Tariq Azim, as saying that Sharif will fly to New Delhi for the event.
Pakistan Foreign Minister Sartaz Aziz is also expected to accompany him. India has invited leaders of all South Asian countries, including Nawaz Sharif to Modi's oath-taking ceremony scheduled for May 26.
The swearing-in ceremony, to be held at the forecourt of the historic Rashtrapati Bhavan, is likely to be attended by as many as 3,000 guests, the report added.