Gujarat CM says India would have been different if Iron Man and not Nehru were first PM.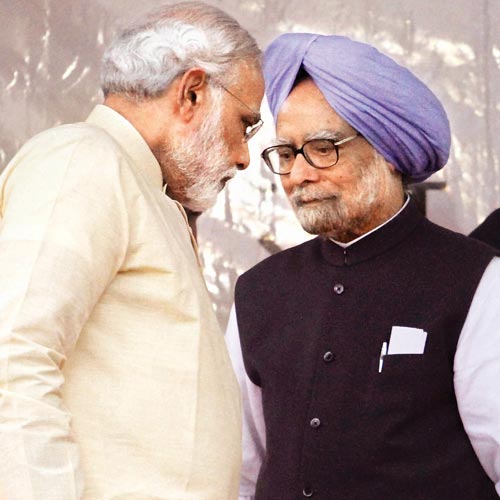 It was a veritable clash of titans when prime minister Manmohan Singh and Gujarat chief minister Narendra Modi shared the dais to inaugurate a memorial dedicated to Sardar Vallabhbhai Patel's life in Ahmedabad Tuesday evening.
In no uncertain terms, Congress leaders asserted their primacy over Sardar's legacy, stating that the Congress was Sardar's identity and vice versa.
The event organised on Tuesday by the Sardar Vallabhbhai Patel Memorial Society, headed by Union minister Dinsha Patel, is strategically significant, as on Sardar's 138th birth anniversary on October 31 Modi has organised a high-profile meeting in Kevadia, a town at Narmada dam project, for the ground breaking ceremony of a 182-metre-tall statue of Sardar called the Statue of Unity in Narmada River.
As the first leader to speak, Modi set the ball rolling when he took a veiled dig at Jawaharlal Nehru, saying all Gujaratis would forever be remorseful that Sardar could not become India's first prime minister.
"The country will always have one complaint, every Indian will always regret and feel the pain...had Sardar Saheb been our first prime minister, the country's fate would have been different, the country's face would have been different," Modi said.
Manmohan Singh, too, did not mince his words. "Sardar was a secular leader; he believed in the sovereignty of the nation and had said Indians of all communities were his brethren. I am proud to be associated with the political party that Sardar worked hard for all his life – the Indian National Congress," Singh said in his speech.
Rebutting allegations of the BJP and Modi about Gandhi, Nehru and Congress party's treatment of Sardar, the PM said, "Sardar was the deputy prime minister in Nehru's government after Independence. There is often talk of difference of opinions between Sardar and Nehru. But it must be kept in mind there were far more points of agreement between the two and they had high regards for each other. I will repeat Sardar's words, 'It is my honour to advise Nehru on several matters of administration and organization. We have worked together like life-long friends and understand each others' perspective. This can be done only if two people have trust in each other'."
The barbs in their speech interestingly did not reflect when they were chatting while sitting on the stage. Modi and Singh were seen chatting amicable on several occasions, with the conversation being initiated by both of them. Before arriving on the stage, the duo interacted during the tour of the memorial and earlier in the evening at the airport when he was received by Modi and a few of his ministers at the airport.
In his speech, Modi also took a dig at the prime minister saying he did not have sufficient time.
"He (Singh) had to visit the Rajiv Gandhi Bhavan," Modi said, explaining later in his tweet that the PM did not have time to listen to Gujarat's issues.