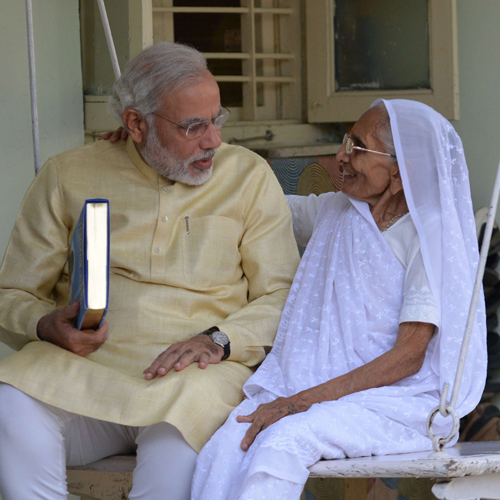 As the counting proceeds, Congress is facing a very bleak result and the very popular statement, 'Abki baar Modi Sarkaar' has actually come true for Indian populace. While the early morning results have predicted win for Bharatiya Janata party and NDA, Exit poll predicitons are coming true. The grand old Congress party is facing a very strong defeat on the lines of its failure of 1999 while Narendra Modi will win easily with a strong margin.
He also tweeted about India's future and BJP's win:
India has won! भारत की विजय। अच्छे दिन आने वाले हैं।

— Narendra Modi (@narendramodi) May 16, 2014
New BJP poster at its party headquarter in Delhi #IElect2014 pic.twitter.com/yz4o7YkoUX

— Ravish Tiwari (@ravishkt) May 16, 2014
Narendra Modi meets his mother Heeraben #Elections2014 pic.twitter.com/8BGf2Tvp11

— ANI (@ANI_news) May 16, 2014
Narendra Modi who won from Vadodara against Madhusudan Mistry has repeated his success streak at Varanasi and defeated AAP leader Arvind Kejriwal easily. While factors such as the strength of RSS cadres and their networking can be attributed to Modi's grand success, one cannot deny the fact that people actually have selected their leader in Narendra Modi and rejected both AAP and Congress.
This is the second time since Rajiv Gandhi's tenure that any party has secured such a majority and have stormed into governance with elan. Prior to this, it was only Rajiv Gandhi's government that had won with a 2/3rd majority. While all political parties had expected this response to BJP on back of Congress governments ineffective governance, this response has completely shocked all the political pundits.
While BJP had a campaign of achieving 272+ seats to form the government, it seems that the party will break all records and gain more than 300+ seats. This tsunami which has taken Indian political scenario by storm can be credited to proper usage of on-ground and off-ground campaign activities and also proper alliances for NDA.
All the barbs taken by Gandhi family against Narendra Modi have fallen flat and even bringing Priyanka Gandhi to campaign has faltered badly for the grand old party. Modi's agenda of development has worked wonders for the party.
Below is a list of some reasons that created hype for BJP and its 272+ campaign:
*The grand old party and its defeat: Congress has been attacking Narendra Modi and BJP but its campaign has been weak. While BJP's strategy to nationalise the entire elections and seek votes for Modi has worked wonders for the party, Congress' leader Rahul Gandhi seeking votes hasn't really made an impact. what the party could do is accept its defeat with a minimal number of seats and form a strong opposition.
Even Congress' allies such as National Conference and NCP did not support the party's last resort to attack Narendra Modi over the 'Snoopgate scandal' when everything else failed.
*Does Narendra Modi's wave really exist: Though some may disagree, these elections have marked Narendra Modi's meteoric rise from state-level politics to national level politics. Eveything from striking a balance on grounds of development and removal of anti-incumbency factors to subtle speeches with Hindu nationalist agenda's have been used extensively. While Congress tried to copy the same method, it failed miserably. The pattern noticed on ground is that people want to get rid of anti-incumbent governance. Though Aam Aadmi Party's rise was meteoric in the assembly elections and AAP leader Arvind Kejriwal went onto defeat Congress' Sheila Dixit and become the Chief Minister, his party fortunes fell quickly after he resigned from the post.
*Who forms the government at the Centre?: Narendra Modi had set the poll pitch with his rally in Rewari, Haryana about how the next government will be. BJP is targetting a whooping 300+ seats and the party campaign is to win 272+ seats and form the government. If this well-crafted strategy succeeds and the party wins, Modi will be at the helm of affairs and deciding the future of the nation. Thisd government will be highly individualistic with concentrated powers and will try to set a balance for development and growth. What Narendra Modi will do to appease Muslim and other community voters is yet to be seen but the entire world is watching the show in the largest democracy.
*Rise of people-centric parties and their fall: The Aam Aadmi Party which was formed on the agenda of 'pro-people politics', and corruption-free governance held promises and rattled the incumbent governance. But, after a failed performance, AAP was not able to make an impact nationally. With Arvind Kejriwal pitting himself against BJP's Prime Ministerial candidate Narendra Modi, all eyes are set to see this duel. Earlier, Kejriwal had used the same strategy against Delhi Ex-CM Sheila Dixit.
*Local leaders making an impact nationally: Time is ripe for state-based parties to exert their signifance in these polls as big players are tying up with local leaders and parties. While BJP and its affiliation rSS has strong cadres who can take the message forward and help the saffron party come into power, the party has tied up with Apna Dal to secure votes.
While Jayalalithaa has kept her options open to join BJP, Mamata Banerjee has attacked the party and called its leader as 'Donkey'. Experts suggest that this is a ploy by TMC and BJP to polarise votes and a future alliance between the two possible.