Narendra Modi E-cards: A new marketing strategy that is centered around BJP's Prime Ministerial candidate and Holi.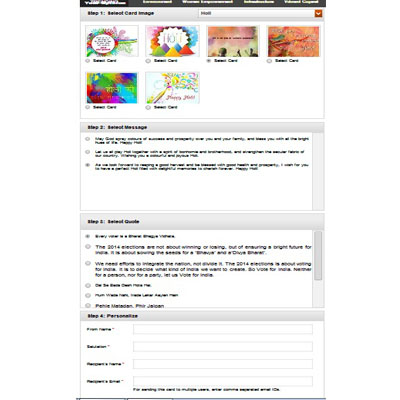 The number of political candidates using social media to garner more votes has increased rapidly, but the BJP's Prime Ministerial candidate Narendra Modi has devised yet another way to get noticed.
Taking stupendous advantage of the current festive season, the prime ministerial candidate for BJP and his team seem to have developed a new way to attract more supporters or just to ensure a strong-hold over their supporters.
You can now send out personalized e-cards for Holi to your friends, relatives and family in customized Narendra Modi's voice. It is a relatively simple four-step process, but is reminiscent of the 'Yahoo' e-greetings that were the trend of the early 2000's.
For creating one, you merely have to choose an e-card image you would like (for now, they only offer e-cards for Holi, no doubt they will expand it).
Then, you choose the message you would like to send (available only in english). After this, choose a quote (Narendra Modi's personal quotes) from the eight different quotes available to you.
However, the number of quotes are higher than the number of greeting messages, and all these quotes are geared towards promoting Modi before the 2014 Lok Sabha elections.
Finally, enter the details of the recipient along with salutation and your name. Then send it across after verifying the content at a glance.
It comes attached with an audio message wishing you 'Happy Holi' in Narendra Modi's voice.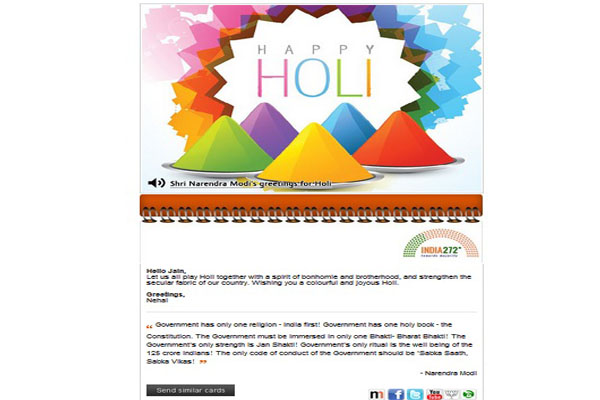 The audio message is thirty-six seconds long. It has Modi drawing an analogy of the elections. His message states, "What Holi is for India, elections are for democracy".
He then proceeds to request everyone to celebrate the elections as well, so as to bring change within the country and make an effort towards contributing to the brighter future of India.
Author's take:
This is definitely a new marketing strategy that has been implemented in order to help Modi raise his popularity.
The election commission has issued a document, 'Model Code of Conduct for the Guidance of Political Parties and Candidates' and there is no mention of rules for social media usage by political parties. Hence, this seems to be a well-thought out strategy by the BJP.
But, does this sort of marketing strategy help NaMo branding in the long run?
Read more: NaMo merchandise takes India by storm as the Narendra Modi wave sweeps the nation