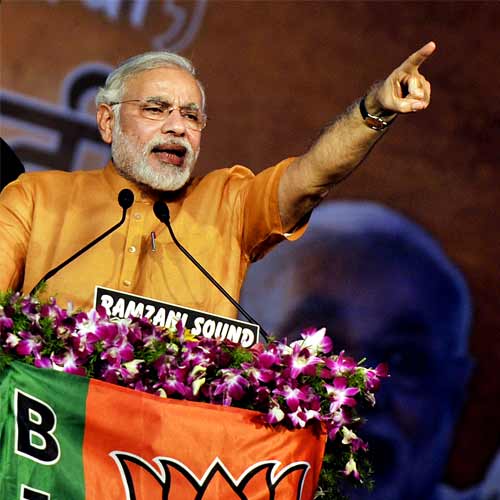 Narendra Modi, who is all set to head the NDA dispensation at Centre following the thumping victory for BJP in Gujarat and rest of the country, was given a rousing welcome by workers and leaders at the party headquarters at Koba near in gandhinagar on Friday.
Almost all top leaders of the saffron party and state ministers were waiting at the party office since afternoon to give a grand welcome to their leader. Also, more than 1000 party workers waited impatiently at the party office to welcome Modi who was expected to turn up at 2.30 pm as the results poured in one after another spelling doom for Congress. Modi finally arrived at around 4:10 pm and was welcomed amid lusty cheers by thousands of workers even as senior BJP leaders IK Jadeja and Vijay Rupani welcomed him.
Modi thanked workers by waiving his hand. However, the BJP leader did not interact with the media waiting outside and entered the conference hall inside the office where he held a meeting with his ministers and senior leaders like Anandiben Patel, Nitin Patel, Vijay Rupani and Purushottam Rupala to name a few.
After the 30-minutes of discussion, Modi left the office. When asked about whether the discussion was about Modi's successor in Gujarat, Rupani replied in the negative. "It was a great moment for our party, as we won with such a huge margin under the leadership of Narendra Modi. We gathered here just to congratulate him for becoming next PM.
The meeting was not about deciding state CM. That decision will be taken after 2-3 days in central parliamentary meeting," said Rupani.