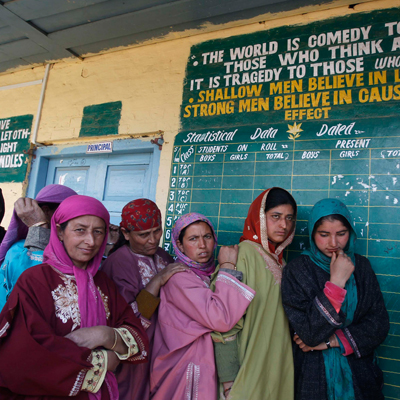 Reacting to the spat between National Conference (NC) chief Farooq Abdullah and Bharatiya Janata Party (BJP) prime ministerial candidate Narendra Modi, Congress leader Meem Afzal on Tuesday said that Modi had no knowledge about Kashmir and was bringing up its issues due to approaching elections in the state.
"Tomorrow, elections are going to be held in some parts of Kashmir and that is the reason why the BJP is saying all this and bringing up issues related to Kashmir. Otherwise everyone knows that the BJP has no say and no power in the state," said Afzal. "But according to me, after elections, Modi needs to go to Kashmir to get to know things better as I do not think he has a lot of knowledge about Kashmir," he added.
Reacting to National Conference (NC) chief Farooq Abdullah's statement that 'people who vote for Modi should drown themselves in the sea', Modi on Monday said that secularism was in his blood, and maintained that in his eyes, the Abdullah family were the sinners of Kashmir, consistently playing politics for their own gain and quest for power. He also claimed that the biggest attack on secularism happened in Kashmir when Farooq Abdullah's father, Sheikh Abdullah, was the chief minister of the state.
Farooq Abdullah had said on Sunday that Kashmir will not be a part of India if Modi is voted to power. Addressing an election rally, Abdullah, who is also Union New and Renewable Energy Minister, said the people of Kashmir wouldn't accept a communal person. "If it happens, then Kashmir will not remain a part of India. I say it publicly. Kashmiris will not accept a communal person," said Abdullah.