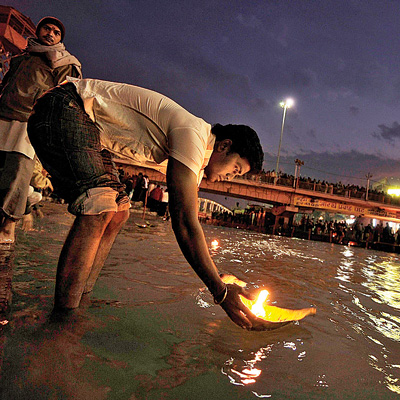 The National Ganga River Basin Authority (NGRBA), which has been ineffective, toothless and a non-starter since its inception in 2009, is all set to get a fresh lease of life as the central government has decided to modify and restructure it.
However, prime minister Narendra Modi's dream project of cleaning the holy river still does not seems to have achieved the speed the NDA government wanted. Report of the group of secretaries to come out with a roadmap that was formed to suggest a detailed plan for cleaning and development of the river has already been submitted to government but it would only be finalised by December 2014.
In an affidavit submitted before the Supreme Court, National Mission for Clean Ganga's (NMCG) Mission director RR Mishra said the government is actively considering the appropriate modification and restructuring of NGRBA to make it more effective.
Headed by the prime minister, NGRBA was formed as the top body on River Ganga in early 2009 after repeated protests that Ganga Action Plan failed to clean up the river. However, only three meetings of NGRBA took place in the last five years with the last one in April 2012.
But even in these three meetings, which included representatives of states like Uttar Pradesh, Uttarakhand, West Bengal, Bihar and Jharkhand, nothing effective was achieved. Owing to such apathy from UPA government civil society experts like Water rights activist Rajendra Singh, Ravi Chopra and professor Rashid Hyatt Siddiqui Rashid Siddiqui had resigned from the body.
The NDA government's move to restructure the top Ganga body seems to be a corrective step in that direction only.
He also informed the apex court that government has also formed a committee of experts to evaluation and selection of various technologies for ensuring maintenance of ecological flow in Ganga.
Besides, a consortium of IITs have been entrusted with the task of finalising holistic Ganga River Basin Management but their report is likely to be available only be end of December 2014.
The government will then take a comprehensive review of both the reports – by group of secretaries and IIT consortium by involving states to finalise the plan of action, Mishra told the apex court.
He also informed court of proposal regarding setting up of an integrated Ganga Conservation Mission, 'Namami Ganga' in 2014-15 apart from budgetary allocations for ghat cleanliness and beautification of river Ganga. He said environment and water ministries are closely co-ordinatiing to arrive at "suitable means for maintenance of ecological flow". The top court will hear the plea on Wednesday.
Last month, the court had slammed NDA government for not showing "enough urgency" in saving the holy river and had asked to come out with a roadmap for cleaning of Ganga.
The issue of cleaning up of river Ganga has been monitored by the apex court and several applications have been filed during last several years.
The apex court has been hearing a two decade-old PIL filed by environmentalist MC Mehta on the cleaning of the river and setting up sewage treatment plants alongside it since 1985. The 2,500 km stretch of the river passes through 29 major cities, 23 small cities and 48 towns.
The ambitious 'Ganga Action Plan' to clean the river was launched by former prime minister Rajiv Gandhi in 1985.