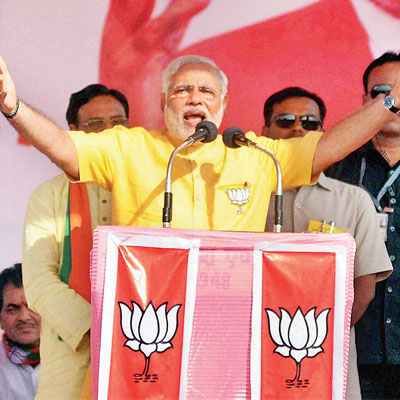 The Char Dham yatra may have started in the higher reaches of Uttarakhand, but it is the Litho Press Ground, in the plains of Roorkee, which appears to be the pilgrim spot. Thousands of followers gathered here on Saturday to get a glimpse of Narendra Modi, the political messiah they have been waiting for to deliver them out of all their troubles.
Two young girls excitedly clicked his pictures on their smart phones as Modi took centrestage. They were excited that he took the time to visit their city, and hope that it will now become as good as Gujarat once he takes over as the PM. "We've heard women there roam freely at night, we also want such freedom," says one of the girls, who teaches at a school nearby. The atmosphere is of pure devotion.
In one of his least publicised rallies so far, the Bhartiya Janata Party's prime ministerial candidate puts up his most aggressive show.
Keeping the heat on the Nehru-Gandhi dynasty, Modi, in a first this election season, attacked former prime minister Rajiv Gandhi, saying that it was Rajiv who had started "gusse ki rajneeti", which his son and Congress heir apparent Rahul are now following. Earlier last month, Rahul Gandhi had stated that that BJP indulges in politics of anger (gusse ki rajneeti), while the Congress has love in its heart. Modi gave examples of how Rajiv, when he was a nobody, publicly insulted Tanguturi Anjaiah, chief minister of Andhra Pradesh in the early 80s, at the Hyderabad Airport. Modi then compared Sonia Gandhi with the British who did not give "do gaz zameen" to Bahadur Shah Zafar for burial, alluding to PV Narsimha Rao. "Rahul Bhaiyya is doing the same. They indulge in 'gusse ki rajneeti,' not me," he says. Accusing Rahul of insulting prime minister Manmohan Singh with his "nonsense" remark about the ordinance on convicted lawmakers, Modi said: "Rahul bhaiyya" ne sardarji ki pagri uchali." The stadium filled up with loud cheers and a thunderous applause followed at Modi's Parthian shot: "Be done with this "Pati-patni" ki sarkaar, this "Maa-bete" ki sarkaar."
The crowd, consisting of a sizeable young population between 18 and 30, saw merit in Modi's argument against the Sonia-Rahul duo. Reaching out to them, earlier in his speech, Modi mentioned how the young cannot afford to waste even a day in their lives, but if they choose a "nikammi" government at the Centre, they would end up losing five years of their lives.
"I thought that was the best part of his speech," said a young man, who runs a gym called Cuts and Curves in the city. "We took off for the day, and I told all my 250 students to take an off and most of them are here listening to Modi. They will all vote for him," he says.
And what is it that makes Modi so endearing to him and the young? "He has will power, he is strong; he will change the face of India," he says, beaming with the dream of a promised land.