Prime Minister Narendra Modi arrived in Jammu and Kashmir today to flag off the much awaited Katra-Udhampur train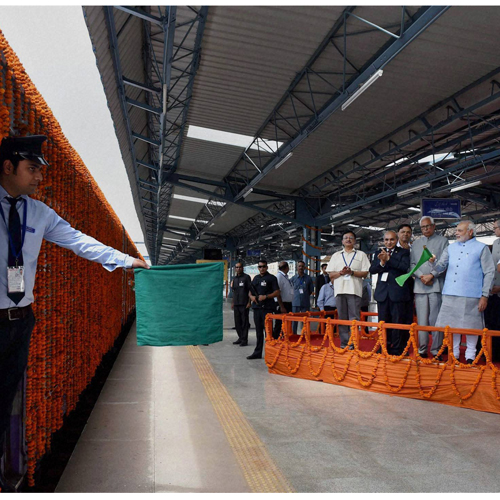 After a prolonged wait, pilgrims will be able to directly reach Katra, the base camp of the Mata Vaishno Devi shrine by rail, after Prime Minister Narendra Modi flagged off the first train from the station nestled in Trikuta Hills in Jammu and Kashmir's Reasi district today.
PM Narendra Modi flags off Katra-Udhampur train pic.twitter.com/iLZ5LOFRqN

— ANI (@ANI_news) July 4, 2014
Speaking on the occassion Prime Minister Modi said, "This is most auspicious occasion to launch this train—on one hand the Amarnath Yatra is on, and on the other hand it is the holy month of Ramzan. Here is a facility to connect devotees with Vaishno Devi." The facility is not only for the people of J&K but also for the people of India who want to visit J&K, he said, suggesting that the train be called the Shri Shakti Express.
Modi also assured the locals that this would not hurt the development of the region, "I assure you that there will be no shortage or obstacle in the development of Jammu. We will infact make Jammu's development more qualitative," he promised. "Katra will now develop rapidly, I hear people are already setting up businesses around the station," he added. Further, he also promised to upgrade railway stations with modern and improved facilities.
Evoking former Prime Minister Atal Bihari Vajpayee, he said, "We have to take forward this initiative started by Atal ji of connecting J&K with railway routes."
"I have come here to Mata Vaishno Devi. I remember I began the election campaign from here and today we begin our development journey from here," he said.
Narendra Modi hints at increased private sector role in Railways
Ahead of the rail budget, Prime Minister Narendra Modi today hinted at an increased role of the private sector in development of railways. "We want the railway stations to have better facilities than airports. This is our dream and it is not a difficult thing to do and this is economically viable too. I have discussed it in detail with my Railway friends. You will see a change in near future. Read More
Talking about other inaugrations scheduled for the day, Modi said, "Today J&K will get both speed and energy. I am inaugurating this and a power project later today." He also noted that environment-friendly transportation would be integral for Jammu and Kashmir's tourism.
Railway Minister Sadanand Gowda said, "I am sure the Katra rail connectivity will provide opportunities to local artisans, traders and students."
At the function at the Katra station where Chief Minister Omar Abdullah was among others present, the Prime Minister refrained from touching upon any political issue facing the state. The Prime Minister also allayed the fears of the people of Jammu, who feel that the direct rail link to Katra will have negative impact on the development of their city, saying the "development of Jammu will not be stalled." Modi said the government will further enhance the rail connectivity in J&K and that the Banihal rail line will be linked to the rest of the country directly. Omar also raised the need for a Banihal link in his speech and demanded an an upgrade for the railway station in Jammu city. Read more
The train won't go to Vaishno Devi it will go to Katra. It's still a 15 KM climb to the temple so "train to Vaishno Devi" is overselling it.

— Omar Abdullah (@abdullah_omar) June 22, 2014
However, the prime minister's visit to the Kashmir Valley comes amid a shutdown called by separatists and warnings by Muslim groups not to create a separate enclave for Kashmiri Pandits. Kashmiri separatist leaders, including Syed Ali Geelani, Mirwaiz Umer Farooq, Muhammad Yasin Malik and Shabir Ahmad Shah, have all called for a the shutdown.
About the train / route
The train for Jammu will chug along the newly constructed line from the Shri Mata Vaishno Devi Katra Station after Modi along with Railway Minister Sadananda Gowda wave the green flag. The train will traverse through seven tunnels and over 30 small and large bridges.There will be a small station - Chakrakhwal - between Udhampur and Katra. The 25 km long Udhampur-Katra line, which is being commissioned tomorrow after prolonged delays, has been built at an estimated cost of Rs 1,132.75 crore.
The Railway Protection Force (RPF) has been stationed at vulnerable locations all along the track in protected bunkers to maintain round-the-clock vigil. Katra station is equipped with modern facilities, including a tourist guide counter, cloak room, waiting hall, VIP lounge, escalators and lifts and parking spaces.
Trains will be able to reach Katra directly as the 53-km Jammu-Udhampur rail line is already operational and now the Udhampur-Katra line, which is a part of the Kashmir rail link project, is being commissioned. This would enable pilgrims headed to the Vaishno Devi shrine to travel directly to the base camp at Katra. "Till now there are three local train services between Jammu and Udhampur and all these will now be extended to Katra," said a senior Railway Ministry official. Read more
Restrictions imposed in Srinagar
Authorities today imposed restrictions in parts of the city to prevent any law and order situation in view of the strike called by separatists against Prime Minister Narendra Modi's visit to Jammu and Kashmir.
Restrictions under Section 144 CrPC have been imposed in Khanyar, Nowhatta, Rainawari, M R Gunj and Safakadal police station areas of the city as a precautionary measure, a senior police official said. He said the restrictions were imposed as there was apprehensions about some persons creating trouble during the Prime Minister's visit to the state today. Elsewhere in the city, police and paramilitary personnel have been deployed in strength to ensure that Modi's visit passes off peacefully, the official said. During his visit to the state today, the Prime Minister will inaugurate a rail link to put Katra on the railway map and address a Sanik Samelan here.
Meanwhile, normal life across the valley was disrupted due to the strike call given by all the three factions of Hurriyat Conference and JKLF against Modi's visit. Schools, colleges, business establishments, banks and petrol pumps remained closed while public transport remained off the roads due to the strike. However, few private cars and cabs ferrying tourists could be seen plying on the roads in the city.
Shutdown in Kashmir greets India PM Narendra Modi on first visit
India's Prime Minister Narendra Modi was greeted by near-empty streets lined by security personnel on his first official visit to Kashmir on Friday, as separatists enforced a strike to demand political dialogue about the future of the divided region. Kashmir is split between rivals India and Pakistan. Demonstrators on the Pakistan-controlled side burnt an effigy of Modi and India's tricolour flag on Friday to protest the prime minister's visit. Read more
(With agency inputs)