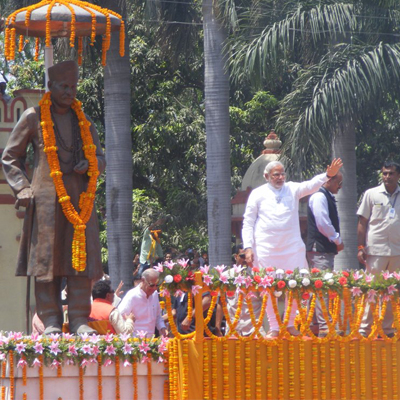 * Narendra Modi takes oath, files nomination in Varanasi.
* Mother Ganga has called me to Varanasi, says Modi. "I don't think anyone has sent me here nor have I come here. Like a child going to his Mother, I have come here to Ganga."
* "I want to serve this land. I want to serve the weavers here. May Kashi emerge as spiritual capital," says Modi
* The statue of Banaras Hindu University founder Madan Mohan Malviya, which was garlanded by Modi earlier in the day, has been cleansed with Gangaajal by Samajwadi Party workers.
* Narendra Modi is filing his nomination. Padma Bhushan Pandit Channulal Mishra, Justice (retired) Giridhar Malaviya are among those who endorsed Modi's nomination from Varanasi
* Modi is accompanied by Amit Shah, Ravi Shankar Prasad, and Laxmikant Bajpai in his road show in Varanasi. Stringent security arrangements are in place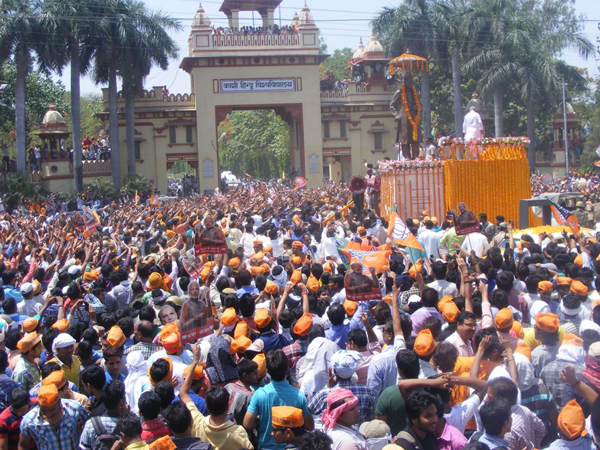 BJP President Rajnath Singh is confident that Narendra Modi's victory from both Vadodara and Varanasi Lok Sabha seat will strengthen BJP's rise to power.
Heartiest congratulations and my best wishes to Shri @narendramodi on filing his nomination papers from Varanasi.

— Rajnath Singh (@BJPRajnathSingh) April 24, 2014
Modiji contesting elections from Varanasi and Vadodara and both the cities have a capital V in its name.

— Rajnath Singh (@BJPRajnathSingh) April 24, 2014
V also stands for victory and I am confident about Shri Narendra Bhai Modi's landslide victory from both the seats.

— Rajnath Singh (@BJPRajnathSingh) April 24, 2014
Varanasi : Narendra Modi pays tribute to Sardar Patel pic.twitter.com/2riUwPKLou

— ANI (@ANI_news) April 24, 2014
* Extendign his support to the Uddhav Thackeray, in Mumbai, said, "I always would come with late Bal Thackeray to vote but today he is not among us. But, we are moving ahead on the direction shown by him and it is also coincidental that when I vote today, BJP Prime Ministerial candidate Narendra Modi is also filing his nomination papers."
* Who will prevail? Arvind Kejriwal's Kashi or Narendra Modi's Varanasi?
* Why Arvind Kejriwal should have chosen Vadodara to contest Lok Sabha polls, not Varanasi
* Tens of thousands gathered at Varanasi on Thursday to join a roadshow that will culminate in BJP's prime ministerial candidate Narendra Modi filing his nomination for the Lok Sabha election. The crowd massed outside the Banaras Hindu University (BHU) where Modi is scheduled to garland a statue of its founder, Madan Mohan Malaviya, at the start of the show of strength.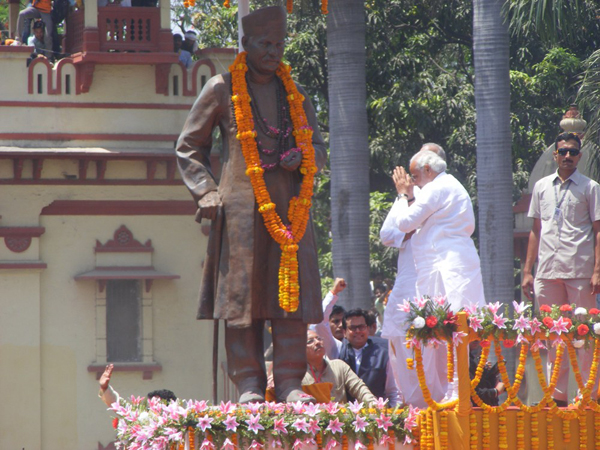 #ModifiedKashi Amazing crowd to welcome Sh. @narendramodi @BJPforUP @BJP4India @buzzindelhi pic.twitter.com/Cz5O6suG48

— NITIN SIROHI (@NitinSir4India) April 24, 2014
* His supporters kept raising slogans praising Modi. "Modiji is our future, and the entire BHU is with him," said an undergraduate student of the university wearing a Modi mask -- like many others. Most people in the overwhelmingly male gathering wore identical saffron caps.
ALSO READ: Narendra Modi writes on Varanasi, importance of voting and his vision for India
Modi's main opponents here are AAP leader Arvind Kejriwal, who filed his nomination Wednesday, and Ajay Rai of the Congress.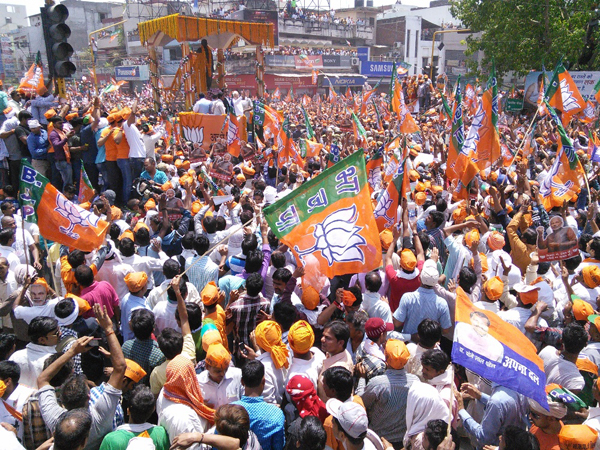 Friends today I will file my nomination papers from Varanasi. I seek your support & blessings as I embark on this journey.

— Narendra Modi (@narendramodi) April 24, 2014
I thank Party leadership for giving me an opportunity to contest from Varanasi, a confluence of history, culture, tradition & spirituality.

— Narendra Modi (@narendramodi) April 24, 2014
My special gratitude to all Karyakartas & well wishers who have been tirelessly working on the ground & supporting me from all over India.

— Narendra Modi (@narendramodi) April 24, 2014
ALSO READ: Narendra Modi ji, as you file your nominations Varanasi has a few questions