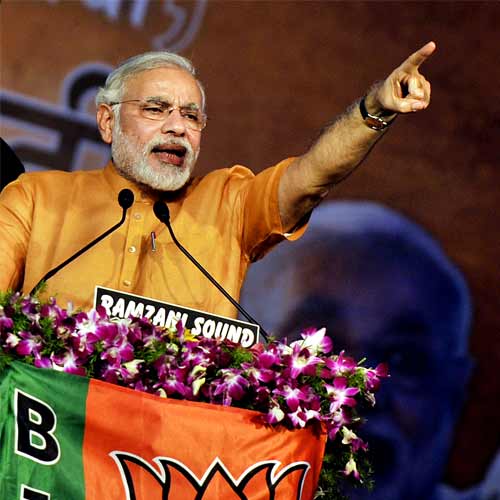 Prime Minister-designate Narendra Modi was unanimously elected leader of the Bharatiya Janata Party Parliamentary Party on Tuesday, setting the stage for him to stake a claim to form the next government at the Centre.
Senior BJP leader LK Advani was the first to propose the name of Modi as the leader of the BJP parliamentary party. "I propose Modi's name as the leader of the BJP's parliamentary party," Advani said.
The proposal was seconded by M Venkaiah Naidu and a series of BJP leaders, including M.M. Joshi, Sushma Swaraj, Arun Jaitley, Nitin Gadkari and Gopinath Munde. "I wholeheartedly second LK Advani's proposal for Narendra Modi as the leader of the BJP parliamentary party," said Joshi.
"With great pride and joy, I express my support for Lal Krishna Advani's proposal of Narendra Modi as the leader of the BJP parliamentary party,' added Ravi Shankar Prasad.
Terming the moment as historic in Indian politics, party president Rajnath Singh said: "It is the first time that BJP has not just got a clear majority, but a brilliant (shandaar) victory."
"In '89, we worked under Atalji, Advaniji... It was the Congress vs the BJP... But today, Indian politics is about the BJP vs Others. I am proud to say that the BJP's dreams have today been fulfilled because of Shri Narendrabhai Modi," he added.
Credit was also given to the founders of the Jan Sangh, Syama Prasad Mookerjee and Deen Dayal Upadyay for establishing the roots for the growth of a party like the BJP, which today occupies a pride of place in the Indian political firmament.
According to media reports, 63-year-old Modi will be accompanied by an NDA delegation to the Rashtrapati Bhavan at around 3 pm. The coalition partners will convey to President Pranab Mukherjee their decision to elect Modi as their leader.
The President will then formally seek Modi's opinion on the swearing-in ceremony, following which the date, when the Modi government will assume office, will be announced.
The Modi-led BJP won a staggering 282 seats in the 545-member Lok Sabha, becoming the first non-Congress party since independence to get a majority on its own.