Much debate has taken place over Article 370 after Bhartiya Janata Party leader Jitendra Singh commented on the issue and raked controversy since Tuesday. The party wanted its abrogation from the Indian Constitution. BJP had reasoned that the special provision given to the state has not helped the people of Jammu and Kashmir in any way and there should be a debate on how much harm or good the article has done for the people of the state.
However, many people are not aware about the concept behind Article 370 and why these special provisions were given to Jammu & Kashmir.
The provision of Article 370 was made in the Indian Constitution after India attained Independence on August 15, 1947.
During the partition of India which culminated in India and Pakistan as separate entities, on the basis of religion Jammu and Kashmir, which was an independent state at the time, had the option of either combining with India or Pakistan, or remaining as an independent state. The then Maharaja of J&K, Hari Singh Indar Mahindar Bahadur, opted to keep it an independent state.
Moreover, when the talks between the three states were still going on, a small Muslim tribe with the support of the Pakistan government, attacked the state of J&K on October 6, 1947. Therefore, in a state of panic, Maharaja Hari Singh Indar Mahindar Bahadur chose to accede J&K to India, who in turn would help defend them from Pakistan. This resulted in the incorporation of Article 370 in the Indian Constitution.
Under the guidance of Pandit Jawaharlal Nehru and Sheikh Mohammed Abdullah, leader of the National Conference- the largest political party of Kashmir, certain provisions were made so that Kashmir will be given a special status.
Article 370 specifies that except for Defence, Foreign Affairs, Finance and Communications, the Indian Parliament needs the State Government's concurrence for applying all other laws.
The most important aspect of the proposed Article 370 was,
"the power of Parliament to make laws for the said State shall be limited to
(i) those matters in the Union List and the Concurrent List which, in consultation with the Government of the State, are declared by the President to correspond to matters specified in the Instrument of Accession governing the accession of the State to the Dominion of India as the matters with respect to which the Dominion Legislature may make laws for that State"
According to these provisions, except for those mentioned in the Instrument of Accession, the Indian Parliament will have to gain the vote of the assembly of J&K without which the law cannot be passed in the state.
Thus the state's residents lived under a separate set of laws, including those related to citizenship, ownership of property, and fundamental rights, as compared to other Indians.
Below is the manuscript of Article 370: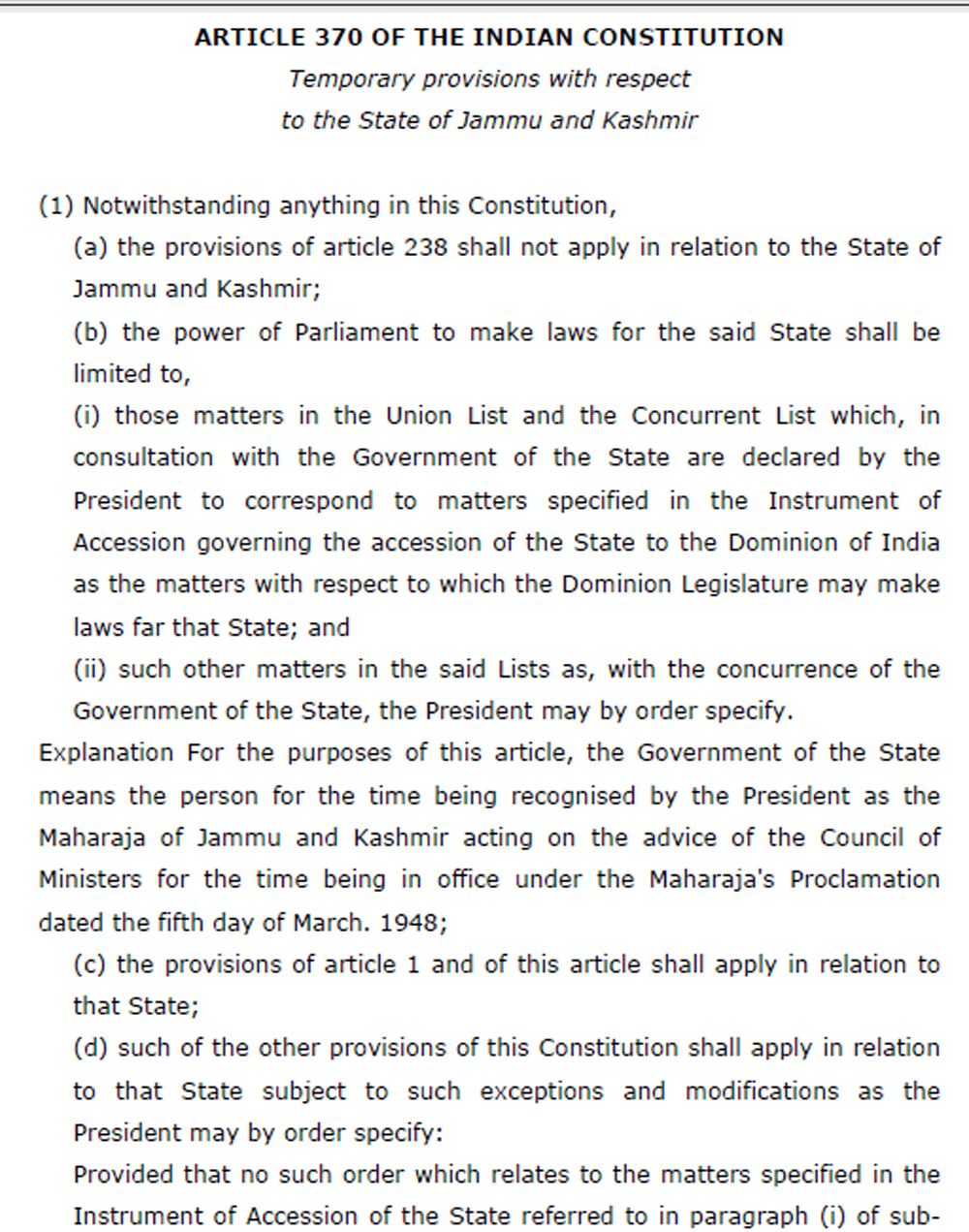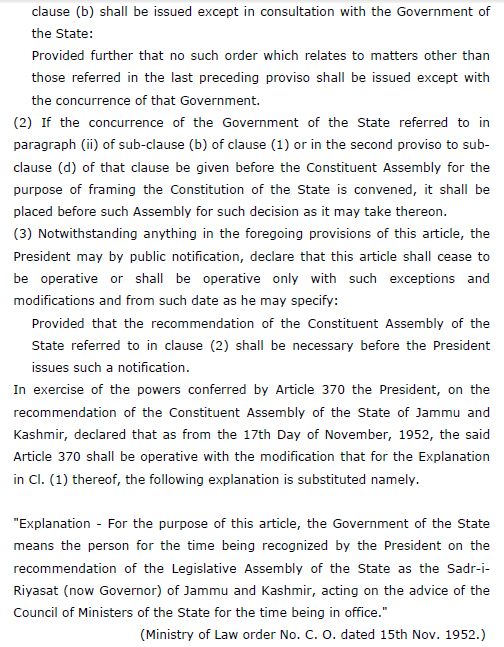 (Inputs from various sources)