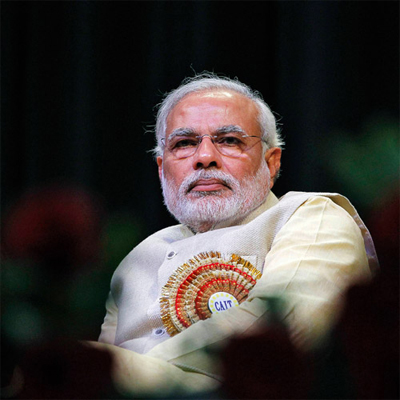 BJP's prime Ministerial candidate Narendra Modi files his nominations today from Varanasi. He is the last one to file since Congress' Ajay Rai filed his nomination on April 17 and AAP's Arvind Kejriwal filed his on Wednesday, April 23.
Before filing the nomination, he addressed his party members and all Modi fans through his blog.
He wrote, "Today I embark on a unique and memorable journey from the land of Somnath to the city of Lord Vishwanath. Later today I will be filing my nomination papers from Varanasi as the BJP candidate. I would like to thank the leadership of the Party for giving me this opportunity to contest elections from this city that has such a rich history and culture. I bow to the Party Karyakartas who have been working tirelessly on the ground from the time my nomination was announced and the Karyakartas and well-wishers from all over India who have supported me in the last few months."
He also mentioned why Varanasi is such a pious place and holds an important stature in the history of our country. The names of Buddha, Sant Kabir, Mirza Ghalib, Pandit Malviya, Ustad Bismillah Khan have also been taken into account by the BJP's candidate. Also, Mirza Ghalib described Benaras as 'Kaba-E-Hindustan' and 'Chirag-E-Dair' or the light of the world.
Apart from thanking, Modi doesn't fail to put out his visions for Varanasi if he wins from Baba Bholenath's abode. He plans to promote tourism in the city and also has chalked out a project to restore Ganga to it's older glory. He promises to make Varanasi clean and green by mitigating garbage and sewage problems. Except the the population of the city, Modi specifically mentioned the weavers and their poor conditions. He wants to improve their livelihood conditions by improving the technological facitilities available to them. Medical facilities which are again stressful in the World heritage site is said to improve once Modiji comes to power.
To end the blog, he asks the citizens to bless him and provide support so that he can bring in the above said and required changes to Varanasi and Poorvanchal so that it comes back to life and is focal point of our rich culture