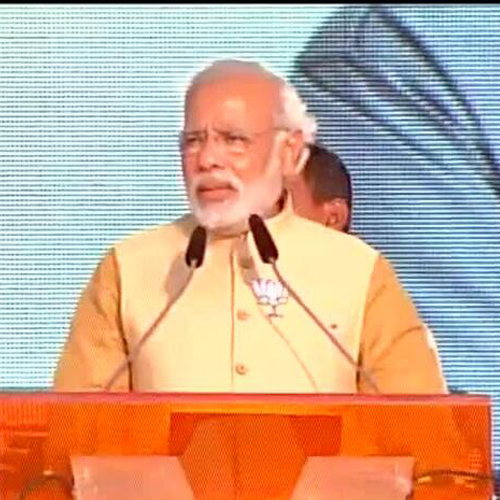 BJP PM candidate Narendra Modi on Monday addressed a rally in Kalyan, Maharashtra.
Speaking to a large gathering, Modi accused the Congress-led UP government of not fulfilling the promises made to the people. He said the UPA government, which had promised to make India slum-free by 2014, had failed to do so. He alleged that the number of slums had in fact increased during UPA rule.
Narendra Modi also stated that the Congress was completely disinterested in good governance and the welfare of the people.
Modi took a dig Robert Vadra, saying that his wealth had increased from Rs 50 lakh to Rs 300 crores in just 3 years. Modi sarcastically labeled Vadra a 'magician' and said that there was no other such individual that he knew of.
Modi once again attacked the UPA government at the Centre for corruption, saying that while the government is steeped in corruption, black money remains stashed abroad and the ones who are responsible for this deny its existence.
Modi then went on to claim that the polling so far in 232 seats had already unseated the UPA government from power. He said the UPA's hopes were now on the remaining seats for which polling was yet to happen, but that these hopes would be in vain.
The BJP Prime Ministerial candidate also extorted people to vote for the BJP-Shiv Sena alliance, making sure that Congress-NCP did not secure a single seat in Maharashtra. He said that a BJP-Shiv Sena victory in Maharashtra would make sure that a BJP government came to power at the Centre.