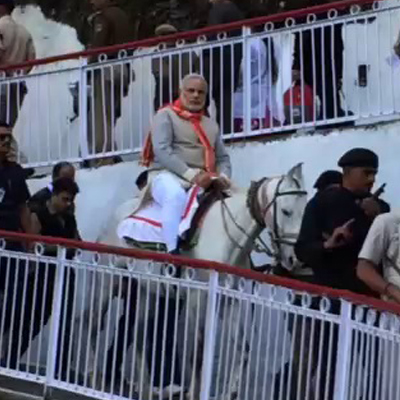 Latest updates
Read: Sweeping winds of change visible in Jammu & Kashmir: Narendra Modi
* I am not asking for 60 months to sit and enjoy power but as a Chowkidaar. Enough of this loot in the nation: Narendra Modi
* Why has Prevention of Corruption Act not been implemented here. They shout about Lokpal but here? Truth is their hands are black: Modi
* Atal ji ignited hope among the people of Kashmir. Had he got more time things would have changed in J&K: Narendra Modi
* We need to think was the thought of SP Mookerjee right or that of Sheikh Abdullah: Narendra Modi in J&K
Read: Narendra Modi's popularity has terrified Nitish Kumar: Mukhtar Abbas Naqvi
* Their crown prince says Congress is a 'sock' but in reality the Congress is thinking- how can a tea seller reach here: Narendra Modi
* I think AK is becoming very lucky for Pakistan and we need to recognise them: Narendra Modi in J&K
* One of AK 49's close aide says there must be referendum of Kashmir and Pakistan is jumping in joy: Narendra Modi in J&K
* This AK 49 just gave birth to a new party & on his party official website the map shows Kashmir is given to Kashmir: Narendra Modi
* There are 3 people who are being praised in Pakistan- they are 3 AKs- AK 47, AK Antony & AK 49: Narendra Modi
Bharatiya Janata Party (BJP) prime ministerial candidate Narendra Modi on Wednesday paid obeisance at Vaishno Devi shrine in Katra ahead of his rally in Hiranagar town of the Kathua district, a few kilometres from Indo-Pak border..
In the morning, Modi tweeted a picture of him on a horse while on his way to the shrine and said, "Jai Mata Di! On way to Vaishno Devi from Sanjichhat"
Jai Mata Di! On way to Vaishno Devi from Sanjichhat pic.twitter.com/Ph1NDEh0yd

— Narendra Modi (@narendramodi) March 26, 2014
The Jammu and Kashmir police have put in place tight security measures for Modi's rally. The rally will be held in the Hockey Stadium.
NDTV quoted Inspector General of Police (IGP), Jammu, Rajesh Kumar, as saying, "We will take all necessary precautions... all security arrangements are being put it place."
This is Modi's second rally in Jammu region. Earlier, he had addressed a rally in December last during which he had sparked a row by demanding a discussion on Article 370 which guarantees a special status to the state.