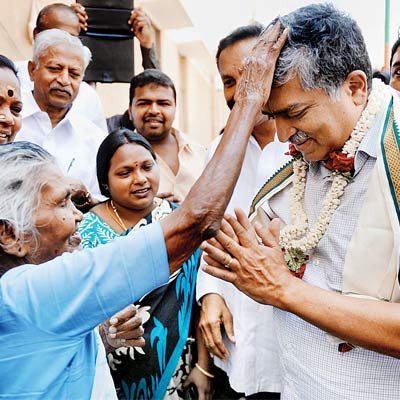 Nandan Nilekani has assetsworth Rs 7,700 crore. But when he stepped out of his sedan for a55-minute padyatra in Bangalore's JP Nagar area on Tuesday, hewas dressed like any other ordinary person on the street —sneakers, trousers, an untucked shirt and a Congress stole around hisneck.
But while his attire may have beencarefully selected to allow him to be inconspicuous, it was hisill-at-ease manner that gave away his discomfort at being in the slumin what was the Congress' Bangalore South candidate's first suchvisit during his poll campaign.
A day earlier, on Monday, around 1,000Congress supporters gathered at the Thomas Convention Hall whenKarnataka chief minister Siddaramaiah made an appearance to put hisweight behind Nilekani and state home minister KJ George and ministerfor information and infrastructure development Roshan Baig graced theevent. Congress leader and former union minister for civil aviationCM Ibrahim spoke in four languages — Kannada, Telugu, Tamil andHindi — showering praises on Nilekani.
The 58-year-old technocrat, whoco-founded Infosys and steered the Unique Identification project is apolitical debutant. And while there is little room for skepticismabout his credentials and abilities, he faces a stiff challenge fromHN Ananth Kumar, five-term MP from the Bangalore South seat and BJPgeneral secretary.
The visit to the Karnataka State RoadTransport Corporation (KSRTC) Layout slum was no doubt a uniqueexperience for Nilekani, who stayed mum throughout the visit. Barely50 Congress workers accompanied Nilekani on Tuesday morning. Congresssupporters waited with garlands and a bouquet near the SLV Hotel forNilekani. Their joy knew no bounds when they spotted Nilekani'svehicle but were left disappointed as his car zipped past towards theJP Nagar Block Congress Office. The disappointed supporters were seencomplaining about the lack of coordination.
At the JP Nagar Block Congress Office,Nilekani chatted with local leaders and inquired about the road-mapfor campaigning in their locality. He was requested to come again tothe area to address a meeting of Congress activists from five blocksin the Jayanagar Parliamentary segment. He readily agreed with asmile.
Within minutes, he emerged from theoffice for a padayatra from the 4th main road. At the KSRTCLayout slum, party worker introduced Nilekani to the owner of theAmrut Condiments shop and appealed him to vote for the Congresscandidate. When asked whether he knew the name of the Congresscandidate, he shop owner said, "I know it. His name is NandanNilekani."
Further inside, people complained aboutthe clogged drains and sewer lines. Even though Nilekani nodded andsmiled, he struggled to walk through. Local Congress leaders assuredthe slum-dwellers that they would look into the problems after theLok Sabha elections. Even as signs of weariness behan to show onNilekani's face, some Congress workers advised him to climb thestairs to meet the voters on the upper floors of the recentlyconstructed residential apartments by the Slum Clearance Board.Others insisted that there was no need for Nilekani to visit eachapartment since that would be time-consuming and that Nilekani wastiring.
At the makeshift slum near the 8thmain road, home to around 150 families, Nilekani faced a real test.He could not refuse to enter the narrow lanes of the temporary slumand so, despite some hesitation, made his way through the one-manlane. He shook hands with those who approached him and waved atothers who watched from a distance. By the time he reached the end ofthis segment, Nilekani, worn with exhaustion, returned to his car andzoomed away to meet other Congress leaders.