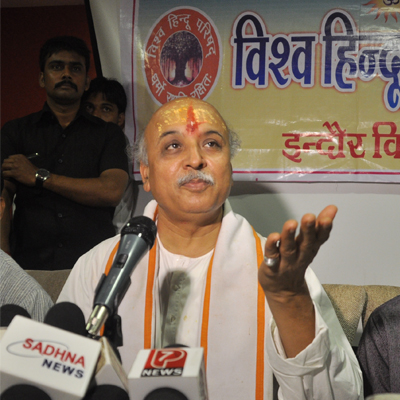 In an statement that set off strong reactions from the Muslim community as well as the public in general, Praveen Togadia, president of the Vishva Hindu Parishad (VHP), said on Saturday evening that Muslims shouldn't be allowed to buy property in Hindu areas.
The statement was made while Togadia, along with VHP and Bajranj Dal members, stood in protest outside the house owned by a Muslim businessman in Bhavnagar, Gujarat. He gave the resident 48 hours to move out of the house, which if not complied with, he suggested taking control of the house and putting a Bajranj Dal board on it.
Togadia further went on to suggest two ways to stop "such deals". "One is to pressurise the state government to bring in Disturbed Areas Act in Bhavnagar, which will prevent inter-community sale of immovable property. The second is to take forcible possession of the house and fight a legal battle later which will go on for years."
He alleged that elections are the best time to secure the interests of the Hindus.
Togadia's actions put the police force of Bhavnagar on guard to prevent any mob attack.
The Twitter community has reacted strongly to these comments, calling them communal and offensive. The tag '#Togadia' has been trending on the social networking site since Sunday night:
Giriraj's statement is because of his stupidity, but Togadia is certainly trying to damage @narendramodi

— Chandra Prakash (@CPism) April 21, 2014
If Togadia has his way the whole country will be divided into Hindu areas, Muslim areas, and so on. Our society will become an Area Samaj.

— Ramesh Srivats (@rameshsrivats) April 21, 2014
I know Togadia hates Modi & supported Cong candidates in Gujrat last assembly elections. VHP unable to trigger riots in Guj for last 12yrs.

— shahid siddiqui (@shahid_siddiqui) April 21, 2014
All those blindly claiming that Gujarat ghettoisation is no big deal, as it happens everywhere, do note the virulence of Togadia's statement

— Mihir Sharma (@mihirssharma) April 21, 2014
Togadia is a disgrace to India. He should be expelled from VHP & booked for his threat to evict Muslims in Bhavnagar

— Minhaz Merchant (@minhazmerchant) April 21, 2014