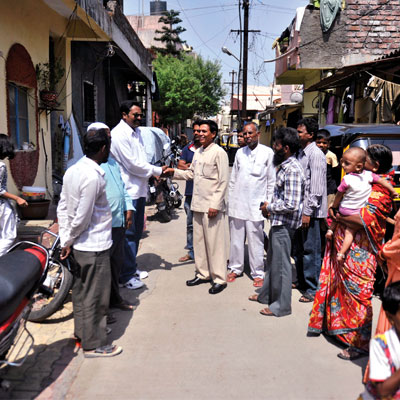 Muslim community in Sayyad Nagar, Hadapsar show solidarity by patrolling the area,ensuring no Hindu household is attacked by any mob.
Pandit Dolare, 60,is living in one of the bylanes of Sayyad Nagar in Hadapsar with his family.
The area is thickly populated with Muslim community. However,neither he nor anyone from his family feel scared surrounded by Muslim households.
According to him, both the communities have been living in peace, maintaining communal harmony and having congenial relations with each other.
The recent murder of a 26-year-old hardware and networking engineering Mohsin Shaikh led to riot-like situation in Hadapsar.
However, the local Muslims living in Sayyad Nagar have vouched to protect the Hindu households residing in the area."The day tension prevailed in the area after Mohsin was beaten to the death by members of Hindu Rashtra Sena (HRS), we as a community decided to protect some of our neighbours who are Hindus as there was a fear that some Muslim mob from other areas could attack the Hindu families,"said Akbar Shaikh, one of the residents of Sayyad Nagar in Hadapsar.
"There is someone who wants to disturb the communal harmony between the two communities," he added.Another resident of the same locality Altaf Shaikh said that on the particular night when there was tension in the area, some of the Hindu families were scared.
However, they gave them confidence not a single Hindu family would be hurt. "The whole night, we were awake and patrolled the area. We ensured that no outsider distrubs the harmony in our locality," said Shaikh.Shivaji Sonawane, who works at a military workshop said that for sometime, he felt that the Hindu families, who are a minority in the area, could be in danger.
"However, our Muslim brothers enthused confidence among us and told us that no one can hurt the Hindu households. They vouched to protect us," said Sonawane.Manohar Kanthare, who is an auto-rickshaw driver and has been living in lane number 15 of Sayyad Nagar for the last 30 years, said that till this incident, he had not witnessed any untoward incident which disturbed the harmony.
"However, the ill-motives of some anti-social elements cannot befulfilled as the bonding between the communities is very strong and unbreakable," informed Kanthare.He said that here in Sayyadnagar, both the communities celebrate Diwali, Holi,Ganeshotsav, Eid with great zeal and zest.
Ahmed Nadaf, who is a tailor by profession said that they have a small organisation called Ram Rahim Sanghtana, which is very much instrumental in bringing communal harmony in both the communities.