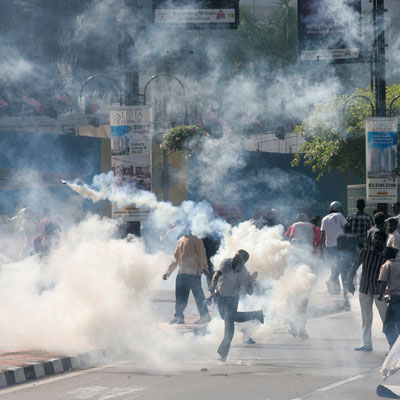 A day after arrests of over 150 people were made to put an end to chaos and violence in Pune, a Muslim IT professional is reported to have been killed by a radical Hindu outfit. The violent protesters were objecting to the presence of derogatory contents of Shivaji Maharaj and late Shiv Sena Chief Bal Thackeray on social networking sites.
24 year-old Mohsin Sadiq Shaikh, a techie from Solapur, was attacked and killed near his home in Bankar Colony, Hadapsar.
Members of the radical Hindu outfit Hindu Rashtra Sena are said to be involved. The police have said that seven people between the age 19 to 24 years have been arrested.
The outfit chief Dhananjay Desai was called in for questioning but was later arrested for an earlier case regarding the distribution pamphlets with objectionable content.
Shaikh was beaten to death when he was returning from mosque with his friend Riyaz. According to Riyaz, Shaikh was wearing a skull cap and a beard which made him a target for his killers. He called Shaikh's brother Mobin for help after who came after the attackers had beaten up Shaikh and were leaving.
Shaikh was admitted to a private hospital. He was declared dead around 1.00 pm.
The assailants had left their motorcycles and wooden sticks at the spot and the police were able to identify the assailants after seizing three motorcycles.
On Sunday controversial pictures containing alleged derogatory references to warrior king Shivaji and Shiv Sena leader late Bal Thackeray were found on social networking site Facebook.
Supporters of the Shiv Sena, Bharatiya Janata Patry and the Hindu Rashtra Sena had taken to street to violently protest against the Facebook post.
Sena leaders gheraoed Home Minister RR Patil who promised to speak to Facebook and Google to remove objectionable content in 24 hours.
On Monday, the city police claimed the situation was under control. The police had made 150 arrests and registered 40 cases against the protesters.
The same day Pune members of the 'Muslim Sanrakshan Hakka Samiti' submitted an application to Pune District collector Saurabh Rao saying Muslim dominated areas be protected since riot like situation was created and their settlements were being targeted.