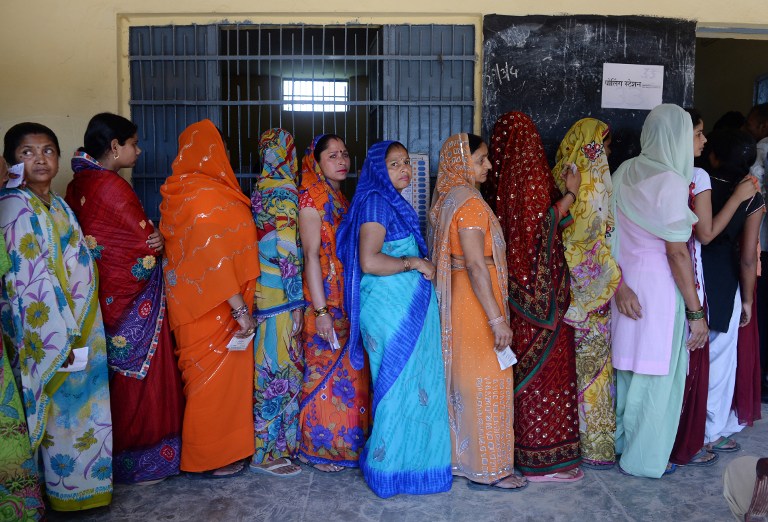 As the sixth phase of polling continues in full throttle, many people are complaining about missing names from candidate (electoral) list. Even HDFC chairman Deepak Parekh's name was missing from the voters list.
As per reports, names were missing in huge numbers from areas such as Kalina and Bandra and South Mumbai from Mumbai. Many residents from Malabar hill area also found their names missing from the list when they turned out to vote early in the morning. From film fraternity, actor Atul Kulkarni and actress Vandana Parekh's names were missing.
In an ironic incident, name of deceased Bhagwan Kamble's name was included in the list. He passed away eight years ago. As per sources, these missing person's names are from areas where Shiv Sena could have benefitted.
61-year-old Suresh Satamkar and his 18-year-old daughter Swati could not vote as their names were missing from the list while his wife and elder daughter could vote. "This is the first time i missed the opportunity to vote. I had exercised my franchise in all previous polls" added Satamkar. Shri Bhansushali, a Ghatkopar based builder could not find his name in the voters list either. "I have been voting for past twenty years and still could not find my name. I have been waiting since morning to figure out the problem," added an exasperated Bhanushali said.
"While our names were missing in the list for the polls, there was another electoral roll kept at Sahakar nagar booth. When we asked for it, the staffers were rude to us. They also called police and we were pushed aside by the cops. How can they behave so with us," says Dharam Shaha, a wadala resident.
A section of Matunga residents have demanded the election commission (EC) to hold again polls in Mumbai south-central constituency after their names were found missing from voters' list.
The sulking voters also sent a letter to the district collector asking him to hold re-election in the constituency which covers areas like Dadar, Mahim, Dharavi, Chembur and Mankhurd. "It was very disappointing to see my name missing from the list. I could see my mother and wife's name in the list, but not mine which is very disturbing for a voter," Manohar Rao, an advocate and resident of Matunga, sulked.
Rao was supposed to vote at Amulakh Amichand school in Wadala assembly constituency.
Rao said he has made the complaint to the collectors with signatures of 40 other voters whose names were missing. "What we have learnt that names of at least 2 lakh people are missing from the list. On learning my name too missing from the list, I had sought to check mother electoral list for 2009 polls. But it was not shown. I had voted for the previous Lok Sabha polls and also the 2012 civic election, but I won't be able to exercise my right now," Rao rued.
Three buildings continously missing from the voters list.
Pune district collector Saurabh Rao, on Tuesday, said that the Election Office has received applications of 1,230 voters regarding missing names from the voters' list with maximum complaints from Kasba Peth constituency. Rao also said that he will be submitting a report on these complaints to the Election Commission in next couple of days.
Even actor Farhan Akhtar raised this issue and tweeted about it:
Many at my polling station saying their name not on the list. They voted the last time but can't this time. Been turned away...

— Farhan Akhtar (@FarOutAkhtar) April 24, 2014
These discrepancies are really sad and are a denial of their democratic right. Someone needs to look into it... Where did their vote go?

— Farhan Akhtar (@FarOutAkhtar) April 24, 2014
When dna asked Mumbaikars about their problems with missing names in electoral rolls, there were many responses from citizens:
After voting for last 5 elections from the same address,name is missing from the list.Could not vote for the first time in last 30 years:-(

— atul kulkarni (@atul_kulkarni) April 24, 2014
@dna #MissingVote my mother's name is missing from the list in the Mumbai North constituency

— Prithvi Hirani (@PrithviHirani) April 24, 2014
@dna Yes.. My friends Dad's name was missing when he has been voting from years #MissingVote

— MrTakkal (@MrTakkal) April 24, 2014
@dna my wife's name was cancelled from list

— kamlesh shah (@kamleshd007) April 24, 2014
Extremely saddening stepped out to vote and couldn't vote because name missing from the list. Vanished in thin political air is it !!! SAD.

— Dheiraj Kapoor (@dheirajkapoor) April 24, 2014
My name was missing. I enrolled online and physically. I was assured I will be able to vote. #MissingVote

— anvita (@anvitanath) April 24, 2014
With inputs from dna reporters