Summer heat, farming season keeping crowds away from election rallies, claim parties even as Modi continues to be a crowd-puller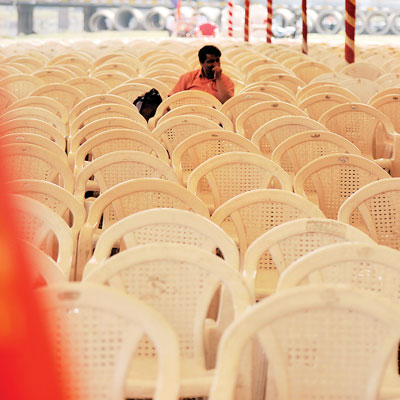 Political parties, other than the BJP for its PM nominee Narendra Modi, are having a tough time filling up grounds for the election rallies of their candidates. And while they point out that sultry heat, strict election commission guidelines and the sowing season are behind the thin crowds, they attack the BJP for using money power to bring thousands to Modi's rallies.
The low turnout has been particularly embarrassing for Congress leaders, including president Sonia Gandhi and vice president Rahul Gandhi. BJP ally, Lok Janshakti Party president Ramvilas Paswan and JD (U)'s KC Tyagi too have had to put up with thin crowds.
Sonia had turned the tide against the Congress by addressing rallies extensively across the country in 20004, pointed out Anis Durrani, a functionary at the AICC headquarters. "Soniaji's campaign had stalled the media hype about the Bharatiya Janata Party' (BJP)'s march to power," said Durrani. But Sonia's ailing health and Rahul's lacklustre appeal has sent the grand old party into a tail spin this time around.
For instance, Sonia abruptly called off her meetings in Nandurbar, Dhule and Mumbai around noon on Sunday, fuelling speculation about her health. These were further intensified when daughter Priyanka too cancelled her scheduled tour of Sonia's constituency, Rae Baraeli. While senior party leaders evaded questions, sources said she had developed minor complaints owing to her election tours. Rahul too had to cancel his Rae Baraeli meeting to be able to stand in for his mother in Mumbai on Sunday. With Sonia not arriving in Mumbai, her ally, Nationalist Congress Party (NCP) chief Sharad Pawar too skipped the meet.
Earlier on March 24, Sonia felt nauseated and had to be given medical care when she appeared on stage to release the party's manifesto.
On April 12, Rahul gave a slip to a rally at Shahjhanpur in Uttar Pradesh due to poor attendance. Congress leaders say he could not reach Shahjanpur due to a delayed departure from the previous rally at Kanpur Dehat. But insiders say that his helicopter reached the spot, but didn't land as Rahul saw few people on the ground. Likewise, on March 22, Rahul's rally in Agartala, the capital of Tripura, too saw a low attendance.
To add insult to injury, candidates in Telangana and Tamil Nadu do not want Sonia or Rahul to campaign for them. Rallies that Sonia addressed at Nagercoil or Kanyakumari Lok Sabha constituency last week, and Rahul's Ramanathapuram rally on Monday did not attract desired crowds. Nagercoil is a traditional Congress bastion, which, the party believes, is its only trump card to prevent it from drawing a blank in Tamil Nadu. It is believed that P. Chidambaram's son Karthi, who is contesting from Sivaganga, wanted the Central leaders to stay away from his constituency, fearing they would be identified with anti-Tamil sentiments.
JD (U)'s Tyagi pointed out that as per media reports, only 10,000 people attended Modi's Jamshedpur rally in Jharkhand. But beyond Jamshedpur, BJP is happy with the crowds. The party believes that in small towns Modi's rallies draw some 25,000 to 30,000 people on average.
Detractors, however, say that this is the case because of BJP's liberal use of funds. "The elaborate arrangements, including that of transportation, lodging, food and other arrangements contribute to the crowds. He must explain where these funds are coming from," demanded senior Congress leader Akhilesh Pratap Singh.
Singh alleged that 29 trains were arranged for Modi's rally in Lucknow, at a cost of Rs 5 crore. He added that an additional 5,000 buses, 15,000 jeeps, lodging, food, decoration and other arrangements would have entailed a total expenditure of not less than Rs 40 crore.
It is not just the Luckow rally that has seen such lavish publicity. Congress spokesman and Union minister Anand Sharma pegs the cost of Modi's Hunkaar Rally in Patna at Rs 10 crore. "Even if we take a conservative estimate of Shri Modi addressing 300 rallies at Rs 10 crore per rally, this alone would amount to Rs 3,000 crore," he said.