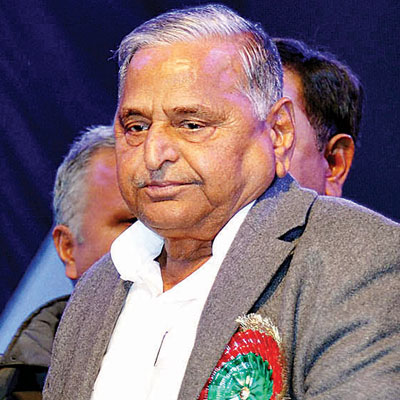 In an unusually harsh public display of anger against his chief minister son on Tuesday, Samajwadi Party chief Mulayam Singh Yadav virtually rapped Akhilesh on his knuckles saying, "Your government is being run by sycophants."
Mulayam even rebuked senior minister Azam Khan when he tried to speak up in Akhilesh's defence. Mulayam also warned erring ministers and MLAs not working in their constituencies for the Lok Sabha elections. He gave a 10-day deadline to ministers and bureaucrats to "mend their ways".
Pointing at Akhilesh, he said at a gathering at the CM's official residence here, "You should not fall in the trap of sycophants. I see that you have become habitual of hearing 'Yes Sir' all the time. The fate of those who are surrounded by sycophants is never good."
Mulayam also rapped Akhilesh for not speaking out against arch rival BSP. "I don't know why, his lips are sealed over the wrong-doings of the past five years of the previous government," he said.
He also stunned Akhilesh with another major allegation, as he said, "Your government is weakening the party. The party is bigger than the government. The party makes the government and not the other way round. We are getting a bad name because of some ministers. I know what each and every minister is doing."
He said he was also getting reports about the MLAs. "If they do not work for the party and we lose (Lok Sabha) seats, they will not even get tickets in the next Assembly election," he said.
Without naming anyone, he said, "Some people are betraying me, and they think they can continue as ministers?" He was apparently referring to agriculture minister Anand Singh whose son Kirtivardhan Singh is set to contest as a BJP nominee in the Lok Sabha election.
Mulayam told Akhilesh that he should gear up his government and provide the basic needs of "bijli, paani and sadak" to the common people.