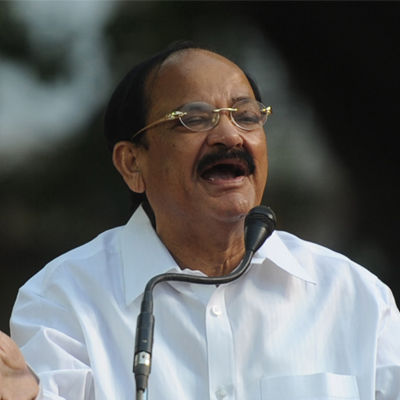 Slamming the conduct of MPs who disrupted proceedings in Parliament on UPSC issue with one of them throwing paper towards the Speaker, Parliamentary Affairs Minister M Venkaiah Naidu today said the members should uphold the dignity of the House
"It is becoming a habit with some people, to come to the well, to the front seat and throw papers. Such actions are not dignified. The entire country is watching and they are not going to benefit from this action," Naidu told reporters outside Parliament. "So it is my polite request to all members that we should all work together to uphold the dignity of the house," he said, adding that no matter how serious an issue is, there is procedure through which it can be raised.
He was responding to a question about interruptions in the Lok Sabha earlier in the day where an agitated RJD member Rajesh Ranjan stormed the Well waving a newspaper and seeking a statement on the UPSC exam row. Ranjan later tore the newspaper and threw the pieces with some landing on the table of the Speaker.
Naidu said that if every member would speak on his choice of subject and choice of time, then it would be difficult for the house to function. The Minister said that it had become a trend that on every issue, members are giving a notice for suspension of Question Hour. "Question Hour belongs to the house, it belongs to the members. Do you want to suspend that right? I am not in agreement with that spirit. If there is a serious matter, definitely government has said, we have said categorically we are ready to discuss each and every issue but provided there is a system," Naidu said.
He said there are "conventions, precedence and rules and regulations" and the presiding officers will decide accordingly which the members have to follow.
On a question related to the UPSC issue, Naidu said that the matter is under the examination of a committee which seems to have submitted its report. He said once the report is studied and decision is taken, it will be communicated to Parliament. When asked if the examinations will be held on schedule, Naidu responded by saying that all these things will be answered at an appropriate time.
"Nobody has postponed the exams. Let us not create any sort of a confusion in the minds of the children.... What should be done, the government will decide in due course of time." He said that there were varying opinions on the issue which have to be considered.
On a question that Congress leaders had been terming action in the National Herald case as political vendetta, Naidu said "they may have spoken on basis of their own experience".