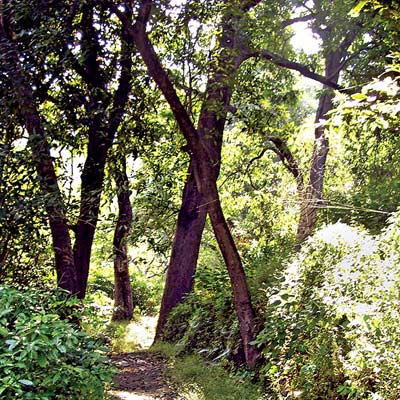 With the aim of preventing construction activities in Aravallis including Mangarbani forest, the National Capital Region Planning Board (NCRPB) has asked Haryana Government to address environmental concerns raised by various quarters in the state's sub-regional plan.
According to sources, Haryana has agreed to demarcate the Mangarbani grove as a 'no-construction zone' and to limit construction to 0.5% in the natural conservation zone (NCZ). The NCZ comprises the ecologically fragile Aravallis, as well as forests, rivers, lakes and water bodies that are considered the lungs of the National Capital Region (NCR).
As per the present norm, there is a capping on construction at 0.5% in national conservation zone. However, there was a move to allow more construction in the garb of "recreational activity" in NCZ despite the capping.
It was feared by environmentalists that under the garb of tourism, real estate promoters would construct tourist complexes, adventure parks and resorts in the natural conservation zone. However, there were major objections from the Prime Minister's Office, Delhi government and Ministry of Environment and Forest (MoEF) to construction activities in green areas. The PMO has directed the Urban Ministry to sort out the various objections to the proposal and send a compliance report to it.
Seeking to conserve the Aravallis zone, Chetan Aggarwal, an environmental analyst, said, "There is a great need for the protection of natural conservation zone because it is crucial for the ecological security of future generation. The ground water aquifers are a common pool resource and real estate development in the Aravallis will dry up ground water recharge in the national capital region such as Delhi, Gurgaon and Faridabad."
The NCRPB, chaired by Urban Development Minister Kamal Nath, held a detailed meeting recently addressing the concern of PMO, Environment Ministry and Delhi Government. Haryana Chief Minister B S Hooda was also present in the meeting. Haryana Government was asked in the meeting to address the concerns raised over allowing construction activities in the NCZ before finalising and officially notifying its sub-regional plan.
The sources said Haryana Government has agreed to drop contentious provision of more construction in natural conservation zones. The NCRPB is expected to notify the regional plan for NCR zone after sending compliance report to the PMO, a senior Urban Development Ministry official, said.