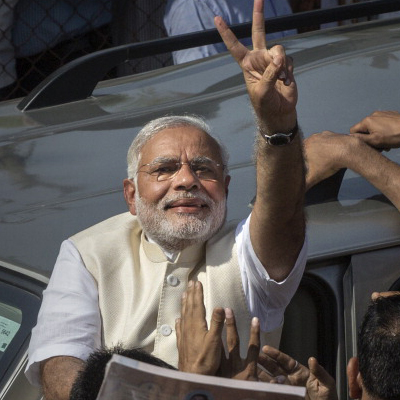 BJP's prime ministerial candidate Narendra Modi on Friday accused the Congress of bringing devastation to the country, and said voters have ensured that the "mother-son" government is on its way out.
Addressing a string of rallies in Khalilabad, Basti, Gonda and Balrampur in Uttar Pradesh, the Bharatiya Janata Party leader said the Lok Sabha polls have ensured the pack-up of the Congress-led government at the centre.
"Voters have ensured that the mother-son government is on its way out," Modi said, referring to Congress president Sonia Gandhi and her son, party vice president Rahul Gandhi.
Modi said the remaining two phases of the Lok Sabha elections would decide how strong the next government will be.
Questioning the Congress on its failure to fulfill its poll promises made in 2009 for employment to 10 crore people and ending price rise, Modi asked people to seek answers from the Congress candidates and boot them out of power.
Accusing the Bahujan Samaj Party and the Samajwadi Party of ignoring development and welfare of the people of Uttar Pradesh, he charged the two parties of keeping the "corrupt" Congress regime afloat despite many scandals.
He said the Congress and its allies were only fighting for power, but the BJP's struggle was to get India out of the despair it has been put into during the 10 years of the United Progressive Alliance (UPA) regime.