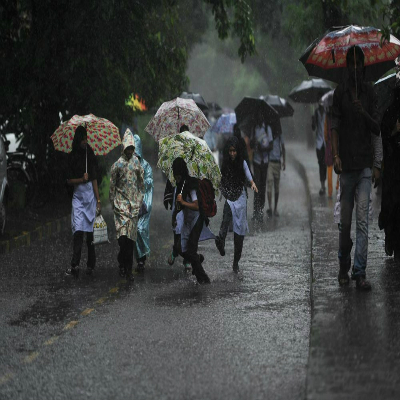 With 13 of the 14 talukas in Amravati district receiving more than 100 mm rainfall since July 22 morning, the grim situation on the rainfall front improved miraculously overnight, according to official reports reaching here today.
The entire district remained under a wet blanket as incessant rains along with howling winds disrupted the city and rural life.
Chikhaldara tehsil recoded the highest of 282.3 mm rainfall during the last 24 hours ending at 8 am this morning while Amravati came next with 197 mm rainfall. Teosa, Chandur Bazar and Dharni tehsils received 175.0 mm, 163.4 mm and 161.6 mm rainfall respectively, while Dhamangaon Railway, Chandur Railway, Warud and Anjangaon tehsils received 175 mm, 139.2 mm, 136.4 mm and 130.2 mm rains. Morshi (128.8 mm), Nandgaon Khandeshwar (124 mm), Daryapur (113.7 mm) and Achalpur (107.8 mm) received less rainfall as compared to other tehsils, while Bhatkuli received the lowest 77.3 mm rainfall.
While the incessant heavy spell drenched people and threw normal life out of gear, it also filled up rivers and rivulets in the district, while low lying areas were flooded.
The steady spell brought cheers to farmers, who had experienced a dry spell of more than 90 days.
The average rainfall for Amravati district from June 1 to date is 351.1 mm. As against this, the district actually has received 347.2 mm rainfall, thanks largely to Tuesday's rains, which averaged 148.4 mm for the district.
No casualties or house collapses were reported from any part of the district.