Bhagat who attended BJP's "chai pe charcha" program in Mumbai says Aam admi Party is in hurry to expand its power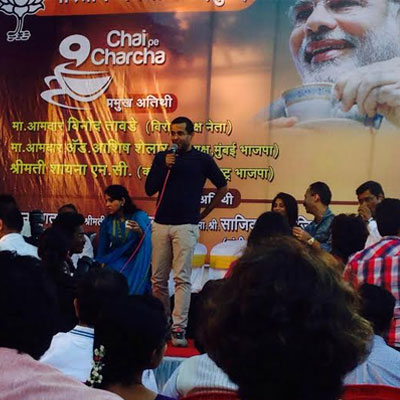 Famous writer Chetan Bhagat who has been supporting Aam Admi Party ever since it was formed a year and half ago, now feels that Gujarat Chief Minister and BJP's prime ministerial candidate Narendra Modi's economic model can do wonder in the country. Bhagat who attended "Chai pe charcha"-a public meeting organised by BJP on Friday evening in Bandra, Mumbai, surprised everyone by supporting Narendra Modi's development program.
"He is the only leader who has presented an extensive economic agenda for India. No ther leader has done so till now. I think his model of governance and economy is the best. It would create large number jobs in the country which is good for youth," Bhagat said. Bhagat has a huge fan following among youth across India and world.
Though he didn't sought vote for Modi or the BJP, he told the gathering that he was concerned for the youth only and hence support "good people" who wish to take the country ahead.
When asked about his alienation towards AAP and now a change of stand, Bhagat says, "Yes, I had supported them initially as they started with the good things. After coming into power in Delhi Assembly, they seem to be in hurry. They want to rise very fast and for that they are doing something which is wrong. This is undermining India's image across the globe."
Without naming Arvind Kejriwal, Bhagat laucnehd a veiled attack on Delhi CM, "Not everyone can handle power. It's the toughest job." Bhagat has recently expressed his displeasure through his writings and tweets over AAP's functioning since it came to power in Delhi.
When asked about his choice between Modi and Rahul as India's PM, Bhagat says he is yet to decide on that. On a question whether he would attend similar public meetings of congress and AAP, Bhagat said yes. "I am here to support all good people."
More than 400 residents including local Koli community and many Muslims attend the event. Several youth asked their questions from BJP leaders so as to understand the BJP's stand on major issues. A young CA student asked about Thursday's Loksabha incident and irresponsible behaviour of MPs. To this Bhagat replied, "This shows we have chosen wrong people." He also advised people to use their voting franchise intelligently. An income tax consultant sought BJP's view on corruption. They were told that no new laws are needed to do that. Implementation of existing rules can address the corruption, BJP leader Madhu Chavan told the audience. People questioned about development, jobs and Modi's ideology.
BJP leader Shaina NC, Actor Raveena Tandon, art of living trainer Rhea Pillai, fitness trainer Mickey Mehta and several local leaders of BJP attended the event. However, Ashish Shelar, BJP Mumbai president and Vinod Tawde, leader of opposition give the program a miss even though they were main speakers. No reason was given for their absence.
Mickey Mehta said, "I am a Parsi and Parsis have been supporting Congress since beginning. However, I feel Modi must be a given a chance as no other leader could bring the desired the change in the country." Raveena Tondon didnt speak much except that advising people to vote cautiously.
The Khar-danda of Bandra area was decorated with the Modi's huge cut-outs and banners. "Chai pe charcha is popular program launched by BJP to connect with the common people over a cup of tea. In a bid to cash in on the "chaiwala" jibe of congress leader Mani Shankar Aiyar who remarked on Modi's humble beginnings as a tea vendor couple of weeks ago. Shaina NC said, "Through Chai-pe charcha program we aim to reach more and more people telling them about Modi's model. We plan to hold more such meetings across Mumbai and India in a run-up to the general elections."