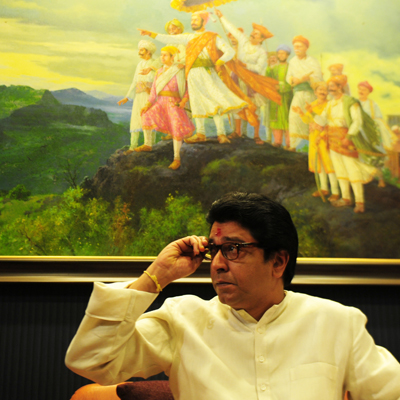 MNS chief Raj Thackeray's decision not to contest in three-fourth of the 48 Lok Sabha seats in the state, doesn't seem to have gone down well with the party cadre, which feels this could hurt the party's performance in the assembly polls due later this year.
MNS leaders are worried about a sense of drift setting in with voters and workers shifting allegiance to other parties in segments where MNS is not contesting.
So far, MNS has announced candidates in only 10 seats (of this, it will face-off with Shiv Sena in eight) and will support the Peasants and Workers Party (PWP) in two (Maval and Raigad).
In 2009, MNS fought in 12 seats and the vote split led to Shiv Sena-BJP nominees losing in nine constituencies, including five in Mumbai.
"With the assembly elections just six months away, the morale of activists may plummet; they may shift loyalty to other parties and we may find it tough to lure them back," said a senior MNS functionary, who believes that if the party had contested in more seats, it would have helped energise the cadre.
"We have not received any orders from the party high-command on supporting any candidate at the local level. If party workers are not directed as to what they should do, it may lead to a sense of drift," he said.
MNS sources said Raj's decision to support BJP's prime ministerial nominee, Narendra Modi, may lead to minority and Buddhist Dalit votes drifting away from them.
"This will impact the cadre and also the party in the assembly polls. MNS voters will be in more of a fix than workers," said Sandeep Pradhan, political editor, Maharashtra Times. According to him, as Raj was supporting Modi, MNS workers could work for BJP candidates in constituencies where the party was not in fray.
Pradhan pointed out that there were 12 seats where MNS was not contesting, but where rival Shiv Sena was pitted against Sharad Pawar-led NCP and Congress (six seats each). And Raj had threatened to show Sena its 'aukat' (standing), Pradhan said pointing to statements by Pawar praising Raj vis-a-vis Sena president Uddhav. This could be with an eye on MNS support in these seats. And though Raj had urged people to teach Congress a lesson, Congress candidates could get support from local MNS supporters depending on their equations, Pradhan said.
"Moreover, in areas like Vidarbha and rural Marathwada, Raj has not focused on building the party. Youngsters may be attracted to him, but it's doubtful whether the party has the capacity to tap this sentiment," said Pradhan, who added that MNS was largely restricted to the Mumbai-Pune-Thane and Nashik belt.
dhaval.kulkarni@dnaindia.net