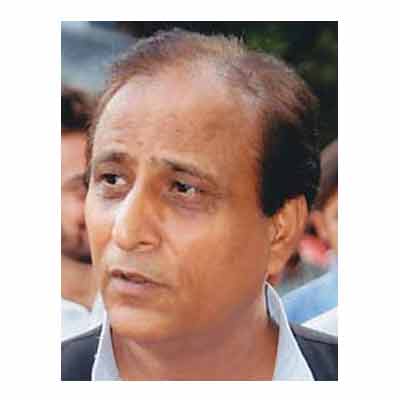 Over 50 persons of the minority community were detained by police on Friday as they tried to gherao UP Waqf Minister Azam Khan's house over the alleged move to appoint "corrupt persons" to the Shia Central Board in the state.
Senior Superintendent of Police Praveen Kumar said that after 'Alvida Namaz', a procession, led by prominent Shia cleric Maulana Kalbe Jawwad, was taken out here to gherao Azam's residence, but police put up barricades near Shaheed Smarak to stop them.
When the demonstrators attempted to force their way and march ahead, police resorted to lathicharging, he said. According to eyewitnesses, one person died after falling on the ground in stampede during lathicharge.
Qarar Hussain fell on the ground in stampede during lathicharge and sustained cardiac arrest and was taken to the trauma center where he died, eyewitnesses said. While Hussain's family members alleged that there were cane marks on his head and chest, the SSP said he did not sustain a single hit and there was possibility that he may have sustained cardiac arrest. The SSP also said that the demonstrators attacked policemen and damaged and set on fire almost a dozen vehicles.
Three policemen sustained head injuries in the attack by demonstrators, of which condition of one policeman was stated to be serious, the SSP said, adding that a service revolver of a policeman was also snatched. Jawwad and 50 others were detained later, he said.
Reacting strongly to the police action, Maulana Jawwad said the procession was being taken out peacefully, but "on the directive of Azam, police lathicharged innocent people observing roza (fast) in which several persons, including elderly and children were injured".
The Maulana alleged that the election of Shia Central Waqf Board are scheduled soon and Azam intends to appoint people who intend to loot Waqf properties, to important posts.