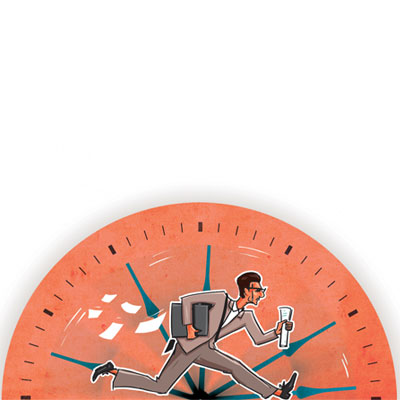 Even though the Central government has denied reverting to six days a week for its employees, Saturdays have already become full working days since the last fortnight.
Apart from the Prime Minister's Office (PMO), offices of his ministerial colleagues and secretaries remain open on Saturday, though with skeletal supporting staff, to clear files and government business. But the formal move to switch to six days a week faces stiff resistance from employees as well as ministers.
Last Saturday, the minister of state in the PMO, Jitendra Singh, reached the Central Bureau of Investigation (CBI) office to meet officials and take briefings of its working and modernisation projects. Same was the case with union health minister Dr Harsh Vardhan, who was in AIIMS for world blood donation day and then was in his office till late night. Prime Minister Modi himself spent the Saturday on-board the INS Vikramaditya as his first trip outside Delhi after taking oath of office, and later interacted with his party cadre in Goa.
"We have been virtually working six days a week. It hardly matters whether the government formally issues orders or not now," a joint secretary in the Central government told dna on condition of anonymity. He hastened to add that his department was enjoying so long as their work helps the government deliver results.
With PM Narendra Modi himself starting the day early after yoga, some of his ministers are seen entering their offices even before 9am. Many ministries have issued circulars reminding officials that work hours are from 9am to 5.30pm. In the home ministry, secretary Anil Goswami has started holding daily meetings with joint secretaries at 9.15am. There is also talk in the offices of ministers that the PM calls them on their office landline, particularly on Saturdays, to ensure that they are in their offices.
There is strong opposition to the six-day week proposal from central government employees. A few days ago, a delegation of secretarial staff called on cabinet secretary Ajit Seth, who assured them there was no such proposal as yet. Government sources say talks are on with the unions of central government employees. Former prime minister Rajiv Gandhi, had, implemented the five-day week system for central government employees in 1989. Talks are on to continue the five-day week arrangement, but with increased work hours. Sources have hinted that 8am-6pm working hours is under consideration.
Ministers, particularly in the Lok Sabha, are opposed to the idea of keeping them tied to ministerial work 24/7. "We need time and a day to attend to our constituencies and remain connected with our voters," said a minister on condition of anonymity.
In most Western countries and in Israel, the parliament functions around the year. Ministers attend on Monday and Tuesday, which are law making days. Wednesdays and Thursdays are devoted to drafting laws in parliament standing committees. On Fridays, ministers visit their constituencies and then take the weekends off.