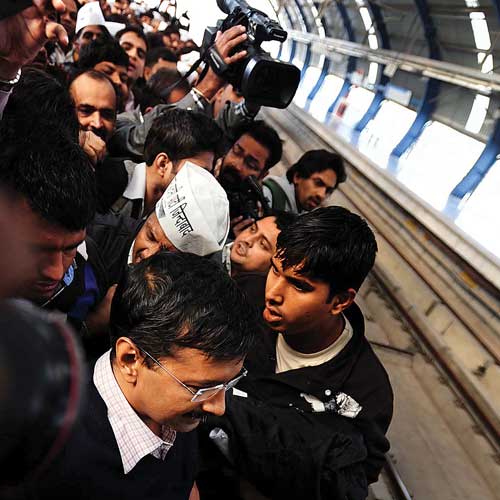 A day after dna reported that heads would roll in bureaucratic circles after the Aam Aadmi Party (AAP) assumed power, Delhi Jal Board CEO Debashree Mukherjee was transferred to the Delhi Transport Corporation. She was replaced by Vijay Kumar.
Making his intentions clear, Arvind Kejriwal — who was sworn in as Delhi's youngest chief minister at Ramlila Maidan on Saturday — brought in three more senior officials in important positions. Puneet Goyal has been appointed as the new power secretary whereas Archana Arora is the new finance secretary.
The Delhi chief minister did not waste any time in reshuffling the bureaucrats as per their choices and changed all secretaries to Delhi's cabinet ministers. Kejriwal brought Rajendra Kumar — who had first suggested an audit of power distribution companies in Delhi — as principal secretary to the chief minister. C Arvind was posted as secretary to Manish Sisodia, Vinay Bhushan to Somnath Bharti, D Verma as secretary to Rakhi Birla, PK Panda to Satyender Jain, C Uday Kumar to Girish Soni and G Sudhakar to Saurabh Bharadwaj.
There was also buzz about Delhi's chief secretary DM Sapolia being replaced. Kejriwal has asked the Union home ministry for a "particular officer" who is posted in the Union government.
Minutes after becoming chief minister, Kejriwal was like a man on a mission, holding marathon meetings with officials from all departments, including power, water, transport and gas. The AAP chief has promised free water up to 700 litres per household immediately and a reduction in power tariff in the capital. "There would be a decision on water by Monday and on the electricity issue by Tuesday-Wednesday," Kejriwal said after his back-to-back meetings with officials and Delhi police commissioner BS Bassi with whom he discussed the issue of safety of women.
The activist-turned-politician also allayed fears of bureaucrats by assuring them of his support in all cases where work is being carried out in public interest. "I assured them that there would be no witch-hunting and asked them to work fearlessly in public interest… I told them that I would protect all honest officers," Kejriwal said.
The AAP government will seek a vote of confidence on January 2 on the floor of the Delhi assembly. The assembly session will begin on January 1 and the election of the speaker and deputy speaker will be held on January 3.
Reiterating his promise of ending VIP culture, the Kejriwal-led cabinet has decided that ministers and officers of the Delhi government shall not use coloured beacons on government vehicles. It said no security will be provided to any officer or minister of the government unless there is a threat perception evaluated by security agencies. Kejriwal and his cabinet members have refused to take security cover which is expected to relieve at least 100 specially trained Delhi Police officials of their current duties as of now.
The AAP chief also rubbished charges of striking a deal with the Congress as alleged by Nitin Gadkari. The former BJP president said a prominent industrialist brokered a deal between the Congress and Kejriwal at a big hotel in Delhi to prevent the BJP from coming to power in the capital. "It is very unfortunate that a senior leader is making such unfounded allegations. There is no truth in (what he has said)," Kejriwal said.