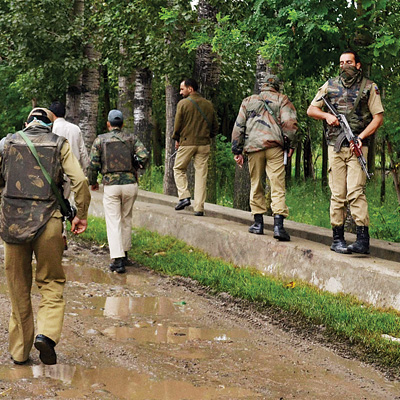 Militants struck outside the Indian Air Force (IAF) base and killed two Border Security Force (BSF) men and injuring four others when they attacked their vehicle near Koil in Pulwama district of south Kashmir on Saturday afternoon.
The incident occurred at 1.20 pm when a BSF vehicle of 165 battalion was on its way from Koil post to the airfield when it was attacked by the militants en route killing two BSF on the spot and four others injured.
Militants, sources said, first opened fire and then lobbed a grenade which exploded with a big bang causing the casualties. Two bullets pierced through the wind screen and hit the two men on the front seat.
Two BSF men were killed on the spot while four others were injured, two of them critically. The injured were shifted to Air force hospital for treatment. Later they were airlifted to 92 base hospital of the army in a chopper.
"Our battalion is deployed for peripheral security of the airfield. One of the companies of the BSF is deployed at Koil village which is also known as Koil post. The men from the Koil post were on way to airfield in a vehicle on some operational duties when militants attacked them," said a BSF spokesman.
The area is highly fortified with army, BSF and CRPF besides police regularly on petrol to guard the airfield. However, the militants seemed to have managed to breach the security apparatus to reach near the site to attack the BSF men on petrol.
Soon after the attack, the security forces cordoned off the area and launched operation to hunt down the ultras responsible for the incident.
"BSF and army has cordoned off the area to find out the militants responsible for the incident", said the spokesman.
This is the fourth incident in which militants have inflicted heavy casualties on the security forces in the south Kashmir district of Pulwama since August 11.
Militants ambushed a Border Security Force (BSF) convoy injuring eight soldiers including an assistant commandant on the Srinagar-Jammu national highway near saffron rich town of Pampore in south Kashmir on August 11.
Militants on Tuesday shot dead head constable of Railway police on the railway track in the Malangpora of Pulwama district. On Wednesday militants attacked a police vehicle near Galander in saffron rich town of Pampore killing two cops and a civilian.