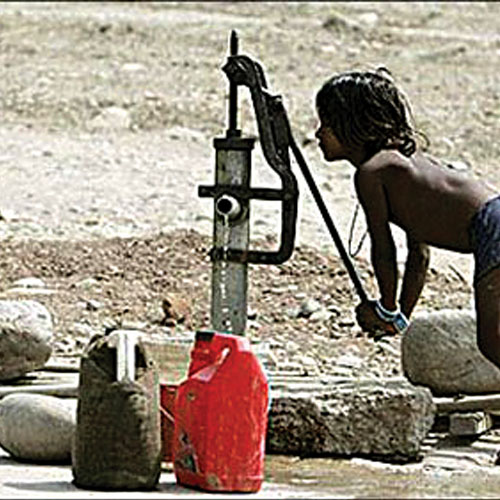 It was a scorching hot day in Delhi on Thursday with mercury rising to 43.7 degrees Celsius, three notches above normal.
Delhiities may not get respite from the sizzling heat in the next coming days with weathermen predicting rise in the mercury.
According to Met officials, the maximum temperature was today recorded at 43.7 degrees Celsius, three points above normal while minimum temperature was recorded one notch below normal at 26.3 degree Celsius. Humidity levels were recorded between 22 and 80 per cent.
Met officials forecast that tomorrow the maximum temperature would be around 45 degrees Celsius while minimum temperature is likely to settle at 25 degree Celsius.
However, later in the afternoon, there could be partly cloudy sky.
Northern India found itself caught in the furnace of the hot summer sun as the mercury soared above the 40-degree Celsius mark across the region where Sriganganagar in Rajasthan recorded a high of 46.8 degrees.
In Delhi, the mercury jumped to a high of 43.7 degrees, three points above normal, while the minimum temperature was recorded a notch below normal at 26.3 degrees. The humidity in air fluctuated between 22 and 80 per cent.
The maximum is tipped to hover around 45 degrees tomorrow with the minimum likely to be at 25 degrees.
The blistering heat wave hit normal life in Rajasthan as the mercury shot up at many places by one to three degrees due to the dry weather and north-westerly winds.
Sriganganagar recorded the highest maximum in the desert state of 46.8 degrees while the other western districts of Jodhpur, Barmer, Jaisalmer, Bikaner and Churu, too, had to contend with severe heatwave conditions.
It was the hottest day this May for state capital Jaipur where the mercury rose to 45.4 degrees, about 1.3 degrees higher than yesterday.
The MeT department said that no respite may be expected in the state in the coming 24 hours.
The conditions were no better in Punjab and Haryana as the mercury hovered above the 40-degree mark across the two neighbouring states. The Union Territory and their common capital of Chandigarh recorded a high of 41.5 degrees, three notches above normal.
In Punjab, Ludhiana sizzled at 43.5 degrees, up four notches, while the maximum touched 43.2 degrees in Amritsar. Hisar in Haryana recorded a maximum of 43.6 degrees, a jump by three notches, while the mercury settled at 40 degrees in Ambala.
The weather remained dry in Uttar Pradesh as temperatures rose across the state with Agra recording a high of 43.4 degrees. Day temperatures rose in the Gorakhpur, Varanasi and Allahabad divisions as well as in the Faizabad, Jhansi and Agra divisions.
The forecast is for dry weather over western UP with a possibility of rain or thundershowers at isolated places in the eastern parts of the state.