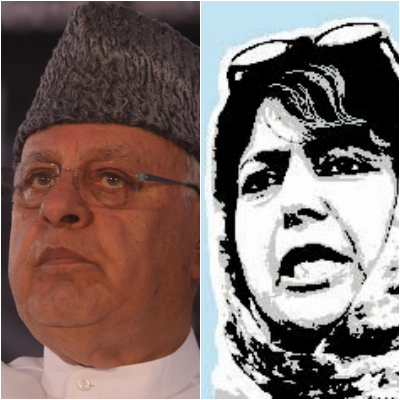 Peoples Democratic Party (PDP) chief Mehbooba Mufti on Friday held National Conference (NC) chief Farooq Abdullah responsible for murder of a village sarpanch by militants.
"For the last few days, the statements from Farooq Abdullah have been followed by action on ground. Be it his earlier statements accusing the PDP of having an alliance with Hizbul Mujahideen and getting National Conference workers killed, which was followed by an attack on National Conference," Mufti told media here. "Yesterday, he (Abdullah) said that he wants to attack the PDP with guns and bombs, and the village head was killed subsequently. We are very disappointed with the Election Commission of India; it seems they are not at all sensitive to the issues of Kashmir," Mufti added.
On Thursday, suspected militants killed a sarpanch in Kashmir's Pulwama District, which goes to polls on April 24. Sarpanch Mohammad Amin Pandit belonged to the Peoples Democratic Party (PDP) and was from the Awantipora area.
Since 2011, when panchayat elections took place after three decades, five sarpanchs have been killed.