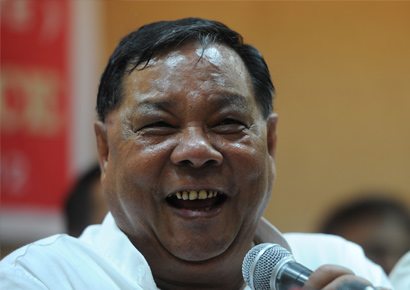 Opposition National People's Party (NPP) today said Meghalaya was heading for a financial crisis due to the state government's alleged failure to address the law and order problem in Garo Hills region.
Expressing concern over the "complete breakdown of law and order" in Garo Hills region, NPP president P A Sangma, however, said the party is opposed to "any move of declaring "disturbed area" and imposition of Armed Forces Special Power Act (AFSPA) in the region.
This was conveyed by Sangma, MP from Tura during his courtesy meeting with Meghalaya Governor Dr K K Paul yesterday. "In spite of what is happening in Garo Hills, we made it very clear to the Governor that we are totally opposed to declaring Garo Hills as disturbed area and the application of AFSPA," Sangma told reporters at a news conference today.
On the situation in Garo Hills region, he said, "The situation has become so bad that people even in remote villages have started taking law into their own hands and extortion, kidnapping, threats, demand notes have become the order of the day." In the wake of a "kidnapping spree" in the region alongside the National Green Tribunal (NGT)'s ban on rat hole coal mining in Meghalaya, Sangma also said, "The economy of the state is bound to collapse, if the banks go for an indefinite strike and due to the ban of coal mining by the NGT."
According to Sangma, another employee of the State Bank of India (SBI) was kidnapped on Saturday night by suspected militants in Garo Hills' Barengapara following which the banks have decided to launch an indefinite strike in the state. He further said, "I am 100 per cent sure that in few weeks time there will be a complete financial crisis in Meghalaya."
When asked about the reasons, he said, " Firstly the ban on coal has very badly affected up to Rs 600 crore revenue to the state government and the kind of employment that it was giving to the people. And now the banks will go on strike, no projects are being implemented and corruption is so high even in a small district like East Garo Hills."