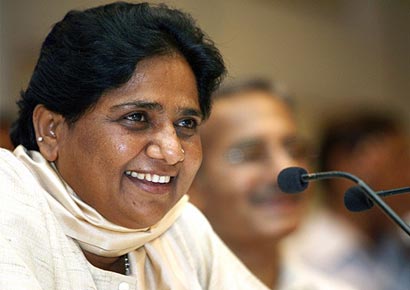 Making her prime ministerial ambitions clear, BSP chief Mayawati today asked people here to vote for candidates of her party so that a "daughter of dalit" could hold the top position.
In her address to party workers and voters at a rally here, Mayawati said, "Vote for BSP candidates so that a daughter of Dalit is made the next Prime Minister of the country."
"Pay heed to my advice and vote for BSP candidates, so that the party comes to a position of playing a decisive role at the Centre," she said.
The BSP supremo was addressing the rally in support of party candidates of all 13 Lok Sabha seats of Punjab.
Motivating the candidates, Mayawati said, "Show me good results in the 16th Lok Sabha polls. BSP should play a majority role in the formation of the next government at the Centre."
The former Uttar Pradesh Chief Minister also took the opportunity to attack rivals Congress and BJP.
Hitting out at Narendra Modi, she said, "If by mistake, Narendra Modi became the Prime Minister, the country would be destroyed. The nation has not forgotten the poignant Gujarat riots of 2002. We have to stop Modi from becoming the PM of the country."
Taking a dig at BJP for "portraying Modi as an exceptional personality who could bring a change in the country," she said, "I want to ask what BJP was doing during its six years of tenure at the Centre? Why did not it bring the so-called change in the country?"
Training her guns at Congress, Mayawati said, "The party had been ruling the country for the past over 50 years and failed on all fronts. Congress did not make any efforts to uplift the nation," she said.
Apprising party workers about her party's decision to go it alone in the Lok Sabha polls, she said BSP wanted to increase its vote percentage.
"Congress and BJP have been misleading our candidates that they should go for an alliance with them," she alleged.
"But if we do so, the vote percentage of BSP would be reduced to 50%, while opposition parties would end up gaining our votes," she added.
She said even during the Punjab assembly elections in 2012, there was stiff pressure on her from some party candidates to enter into poll alliance with either SAD-BJP or Congress.
"My agenda for the candidates was clear that you work hard and increase your vote percentage so that BSP could attain absolute majority like we achieved in Uttar Pradesh, which is one of the biggest and crucial states of the country," she said.