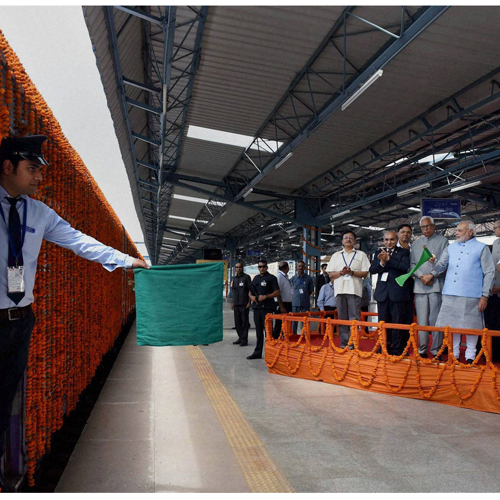 Earlier, dedicating the new train line to the nation, Modi said, "This railway line is not just a gift to the state of Jammu and Kashmir, but to the entire nation, to 125 crore Indians who wish to come to the shrine, and I am proud to place this gift before them."
Modi said he had suggested to the Railway Minister that this train be called the 'Shri Shakti Express'. The prime minister also congratulated the Mata Vaishno Devi Shrine Board on the occasion.
MoS PMO Jitendra Singh remarked that the wishes of the devotees of Mata Vaishno Devi had been fulfilled by Modi after becoming Prime Minister.
"He started his election campaign from here after (taking) blessings from Mata and now he has fulfilled the promise to the people here," he added.
Locals, meanwhile, hailed the launch of the rail service and said it would bring about development of the region.
"This step by the Modi government will boost the economic strength of Katra, which will now become a powerful economic backbone of Jammu-Kashmir," said Ravinder Singh, a local businessman.
CEO of the Shri Vaishnodevi Shrine Board, Dr Mandeep Bhandari, said that in the past decade, the shrine had become the busiest mountainous cave shrine and the second busiest shrine across the country.
The Mata Vaishno Devi shrine recorded a footfall of 93.34 lakh in 2013. Before that, it was a record 1.05 crore in 2012 and 1.01 crore pilgrims in 2011.
The Udhampur-Katra line is part of the prestigious national railway project of Udhampur-Katra-Qazigund-Srinagar-Baramulla railway line which is to be executed at an approximate cost of Rs 19,565 crore, of which Rs 9,666.71 crore has already been spent till March 31, 2014.
The Katra station has been provided with modern passenger conveniences. It is a four-line crossing station with four platforms.