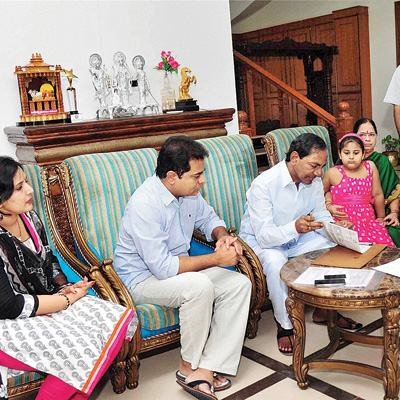 The people of Telagnana on Tuesday participated in an integrated household survey ordered by the TRS government in an effort to weed out bogus beneficiaries in the welfare schemes in education, housing, healthcare, ration cards, pension etc.
Telangana chief minister K Chandrasekhar Rao, who also participated in the survey with his grand daughter and other family members, hailed it as 'unprecedented ' and said the people responded in a positive manner to the governments initiative. He clarified that there was no hidden agenda against the people of Andhra Pradesh or other outsiders.
The chief minister said of the four crore people, 88% participated in the survey in Hyderabad and 95% across 10 districts of Telagnana.
Why was the survey conducted?
The data so gathered would be the basis for all welfare sops to be announced in the budget session of Telangana assembly in September this year. As of now, all the welfare programmes are on hold for want of the data, says state revenue minister Mohammed Ali. "During reviews of all welfare schemes, we found there were bogus beneficiaries who got benefits during Congress regime. Be it tuition fee, reimbursement for students, poor housing, health cards for poor, pensions and rations cards, there was a minimum 30 to 40 per cent pilferage," says Telangana finance minister Etela Rajinder.
How was the survey done?
Nearly four lakh enumerators including, students, NGOs, lecturers and government employees, covered one crore households in all 10 districts, including Hyderabad. To avoid double entries and double benefits for one family, the survey has been held on a single day in spite of Rs 20 crore expense and manpower problems. In Hyderabad, as many as 75,000 government employees gathered data for 20 lakh families in Greater Hyderabad Municipal Corporation.
Was the survey mean to weed out Andhraites from Hyderabad?
Brushing aside the criticism by opposition and allegations that it is aimed at singling out people from Andhra Pradesh living in Hyderabad, KCR said the survey form had no question on nativity or even the details about bank a/c etc were optional. However, TDP's Telangana leader Relevant Reddy had raised a hue and cry over the survey and said, "KCR wants to scare Andhra settlers and deny them welfare benefits."