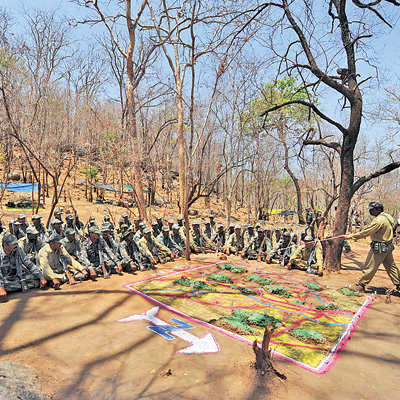 Mounting pressure of security forces on Maoists in the central Indian states of Chhattisgarh, Odisha and Maharashtra is forcing them to look for new bases in far South.
According to reports prepared by a senior officer of the union home ministry based the CPI (Maoist) is trying hard to establish new bases on the border of Kerala and Karnataka.
The report based on IB inputs, interrogation reports of captured leaders, seized Maoist documents and intercepts also claims that the CPI (Maoist) is engaged in establishing a forest route from Wayanad district in Kerala to Mysore district in Karnataka.
"Kerala wants a CIAT (counter insurgency and anti-terrorism school). This should be considered as Maoists want to revive their South West Zonal Committee – at the tri-junction of Kerala-Tamil Nadu-Karnataka. Proactive steps should be taken lest Western Ghats become Bastar-Two," the report prepared by a senior official says.
There is a presence of over 100 battalions in seven central Left Wing Extremism (LWE) affected sates of central India. It is going to be further beefed up with 10 more battalions of the CRPF and 37 India Reserve battalions thereby taking the total presence of security forces to close of 1.5 lakh pair of feet.
"Despite being active, the CPI (Maoist) has not been able to establish themselves in these areas.
Adding to the worries of Centre is the newly created state of Telangana that being soft on Maoists can be used as a safe zone in times of counter insurgency operations.
The Maoists plan to form a contiguous zone from Kerala-Karnataka-Tamil Nadu tri-junction to Bastar via Telangana.
"This is a highly far-fetched scenario which can happen only if the security forces fail miserably and Maoists manage to get ample ground support," said sources.
"Our worries right now are Bihar and Telangana are the two soft spots where the Maoists could head to save themselves from the heat of security forces," he added.